 Q2 2021 Benchmark Report of Global Affiliate Programs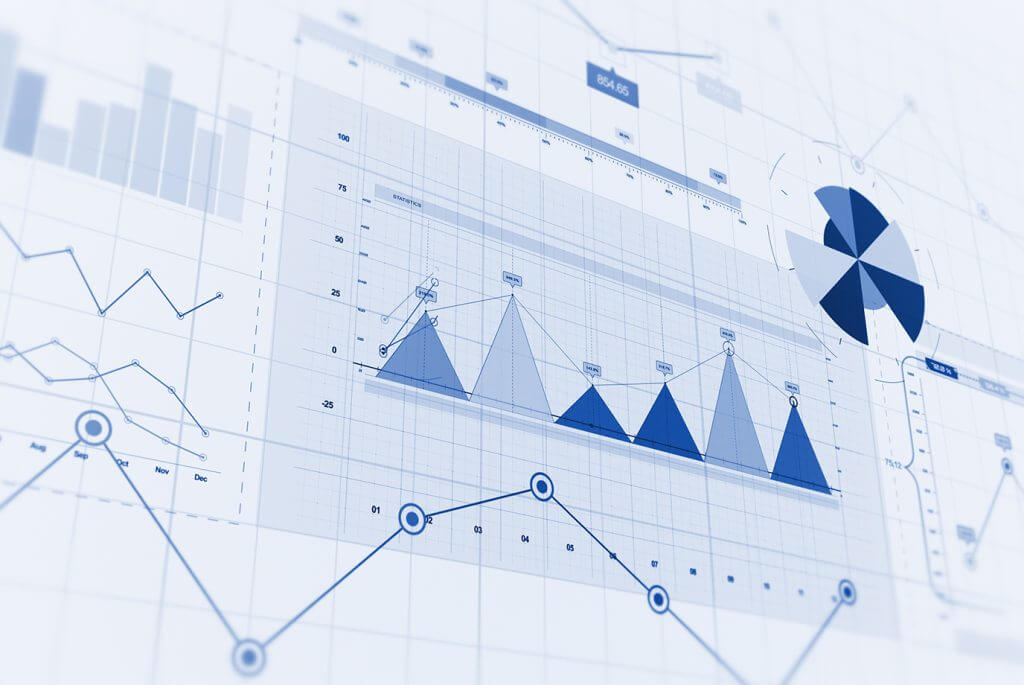 One key factor has stood out from this last quarter; consumer demand continues to rise. Consumers are playing catch up and are buying more items, such as apparel and shoes for entertainment and travel.
In the U.S. specifically, the National Retail Federation expects a high growth outlook for the year, anticipating "the fastest growth that we've seen in this country since 1984," with retail sales expected to grow between 10.5% and 13.5%.
High-Level Overview of the Global Consumer Landscape in Q2 2021
For Acceleration Partners, we saw an amazing 410% increase in revenue year-over-year (YoY) from our entertainment and recreation clients. At the same time, we also saw a decrease YoY in food and beverage (down 62%) as consumers shifted away from subscriptions and ordering take-out to going out more in person.
In May, there was an interesting shift that showed apparel and accessory sales growing faster than furniture sales. Additionally, with Amazon Prime Day launching in June (instead of in July), we saw the biggest U.S. e-commerce day in history, surpassing $11 billion in revenue. Total online spending for the two-day event grew 6.1% from the previous year, also beating spend from 2020 Cyber Monday.
Globally, consumer confidence is reaching pre-pandemic levels. In the UK, Deloitte's recent analysis shows that due to the UK's vaccination program and easing of restrictions, more consumers are looking to buy. In the survey, 58% said they intend to spend more on holidays, eating and going out, and on clothing over the next three months.
Acceleration Partners' Client Performance Data: Q2 2021 (April – June)
Looking at our client data between Q2 2021 and Q2 2020, we saw decreases in clicks as consumers shifted to in-store shopping, especially when it came to entertainment and travel sales. However, we also saw more new customers, with new customer orders up 58% YoY.
There was a decline in traffic (down 69% YoY) in Q2, which was due to many of our clients having seen an increase in traffic at this time last year, when the global pandemic started. Now, we are starting to see traffic normalize to pre-pandemic levels. Revenue was relatively flat (down 3%) compared to last year, with Average Order Value (AOV) up 11% and new customer revenue up 104%.
Acceleration Partners' clients experienced several global successes in Q2 2021, including many lucrative new customer acquisition campaigns and content exposure to keep brands top-of-mind as consumers shifted back to in-store shopping.
Across all business models, some of the more notable changes we saw included:
Increases across apparel, entertainment, health and wellness and technology as consumers continued to shop online for a much bigger share of their apparel sales.
Decreases in food and beverage and household as consumers shifted their behavior. The food and beverage vertical is continuing to grow, but is decelerating compared to 2020.
Increase in Direct-to-Consumer (DTC) revenue growth with a significant rise at 32% YoY, while retailers saw a slight decline at 5% YoY. This is driven by consumers starting to shop in-store again.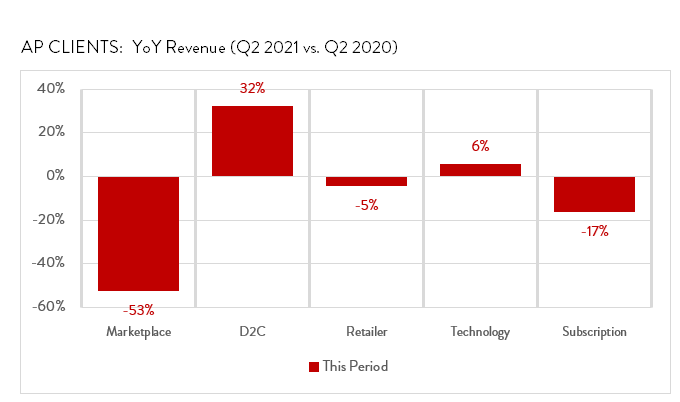 *This data is based on revenue only and does not include actions such as lead-based programs.
Affiliate Partners' Performance Data: Q2 2021 (April – June)
For affiliate partner types, deal and content partners were up in revenue (3% and 26% respectively YoY), while coupon partners were down 29% in revenue and mass media partners down 4% YoY.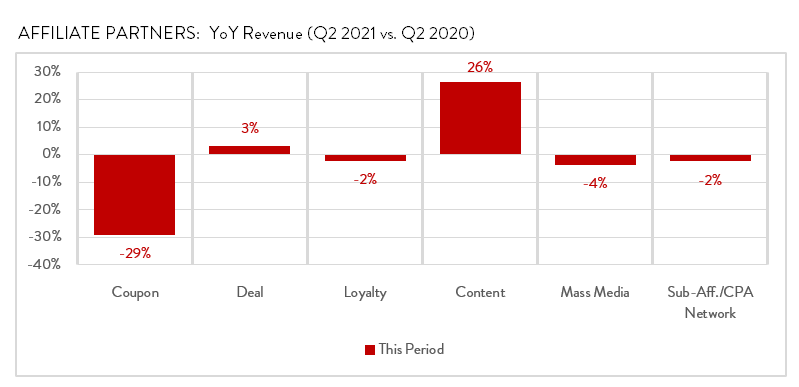 Up Next … Quarterly Client Data
We will continue to share our client data quarterly for the rest of 2021. Look for the next report on Q3 to be shared in October.
Questions about this data or the strategies other brands are finding successful? Contact our team!