 Employee Spotlight: Zeina Rizk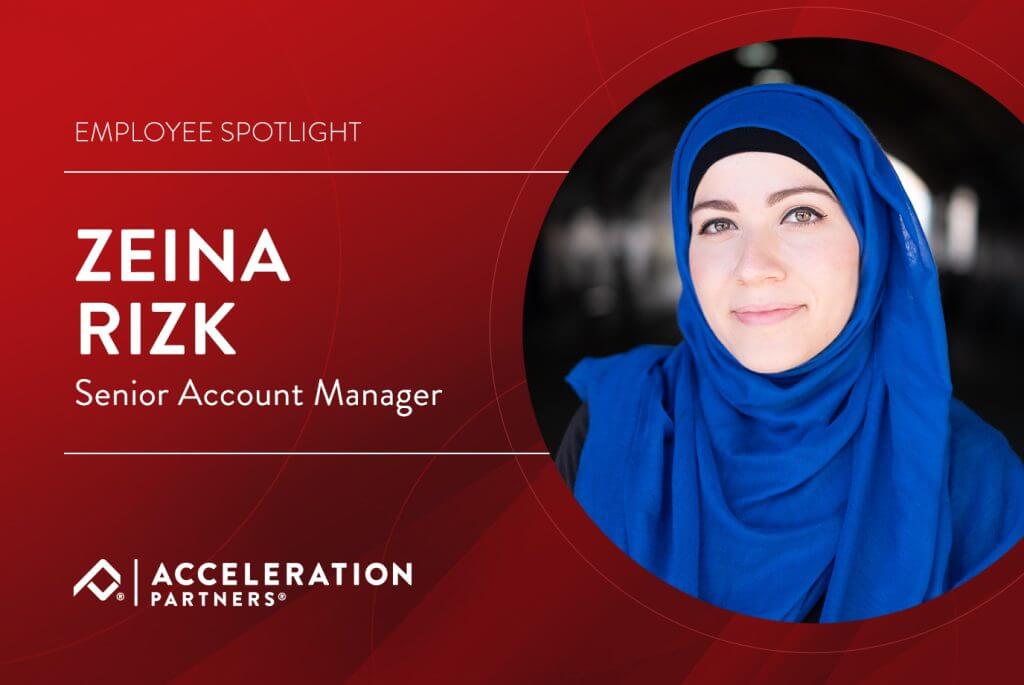 In this month's edition of our Employee Spotlight series we talked to Senior Account Manager, Zeina Rizk. Zeina shares her thoughts on the biggest changes she's seen in her affiliate marketing career, and how remote working accommodates her lifestyle.
Can you tell us about your role at Acceleration Partners, and how you ended up working in affiliate marketing?
I work as a Senior Account Manager, managing the EMEA program of a large global client. I'm primarily involved in setting and executing the affiliate strategy, recruiting partners and managing partner relationships. My first job after graduating from a Masters in Marketing was at an affiliate marketing agency and working for eBay across Europe. I haven't left the industry since then, where I've also had experience on the network and client-side before joining Acceleration Partners.
What has been the biggest change you've seen in affiliate marketing during your career?
The expansion of affiliate marketing as a channel towards a model that can be applied to almost any type of partnership or digital channel is transforming the way we do affiliate marketing. Today, pretty much any online entity can act as an affiliate, which has led to the emergence of new players such as tech partners, programmatic networks, display partners, and many more.
What do you think brands should keep their eye on in affiliate marketing?
Having the basics in place for your program and have it done right! This may sound like common sense, but it is not always common practice. Unfortunately, many brands are missing out on revenue from the affiliate channel because of this. Doing a yearly or bi-yearly program audit is a good way to identify what your program is lacking by reviewing industry best practices, innovations and analysing competitors' programs.
What's your daily routine for success?
I follow a morning and evening routine, which involves ten minutes of meditation. This helps me to be a better "me" and minimise stress. During my working day, I use a timer to take a five minute break every twenty-five minutes to enhance my focus and productivity. I use that time to do some exercises or getting small things done around the house. Finally, I use Asana to manage my priorities and tasks, as well as to collaborate more effectively with my client and teammates. I've recently discovered a great feature that turns email and Slack messages into Asana tasks – that's a real time saver!
What are your top tips for working with a global brand?
I believe the most successful global programs are built from three intertwined pillars: expertize, creativity and optimal operations:
Expertize: focus on being an expert within your area, whether it's specific markets, team management, or publisher development. Expertize comes both from experience and intellectual curiosity, but the best shortcut to increase it is through proactive collaboration. Proactive collaboration consists of leveraging expertise from different parties to deliver the best possible result. For example, I leverage the expertise of my global team for our common client, the EMEA client services and other teams such as data analysts or publisher development. Also, do not try to reinvent the wheel every time. Recycle a combination of existing resources and materials and repurpose them for your own program.
Creativity: this is what makes the difference between a poor to average program and a great one. Using the same old affiliate strategies or solutions is not always the best approach. Don't be afraid to innovate! Be creative by finding solutions to unique problems, brainstorming ideas with your team and again, be intellectually curious!
Optimal operations: The foundation of an effective global team is most definitely optimal global operations adapted at a local level. "Work smarter, not harder " is a core value of my global team. An effective global team will have streamlined processes, operations, and strategies adjusted at a local level when needed.
How does working remotely accommodate your lifestyle?
Working remotely gave me the work-life balance I was never able to find in an office environment and improved levels of wellbeing. It gives me time and money back as I don't need to commute daily or buy lunch every day. It allows me to maintain an optimal exercise routine and spend more time learning for my personal growth. I particularly love being able to work from anywhere, whether it's from home, a working space, a coffee shop, abroad or in France where I can enjoy more quality time with my family. By working remotely, I don't have to make a sacrifice between my career and my personal life, I can have it all. I'm grateful to be part of a company that has created such an incredible remote working culture!
To find open positions at Acceleration Partners, please visit our Careers page. To learn more about how our top-notch account team can help your brand, contact us.
Author: Acceleration Partners