 Profile of a Growth Marketer: Stephanie Solty, Drop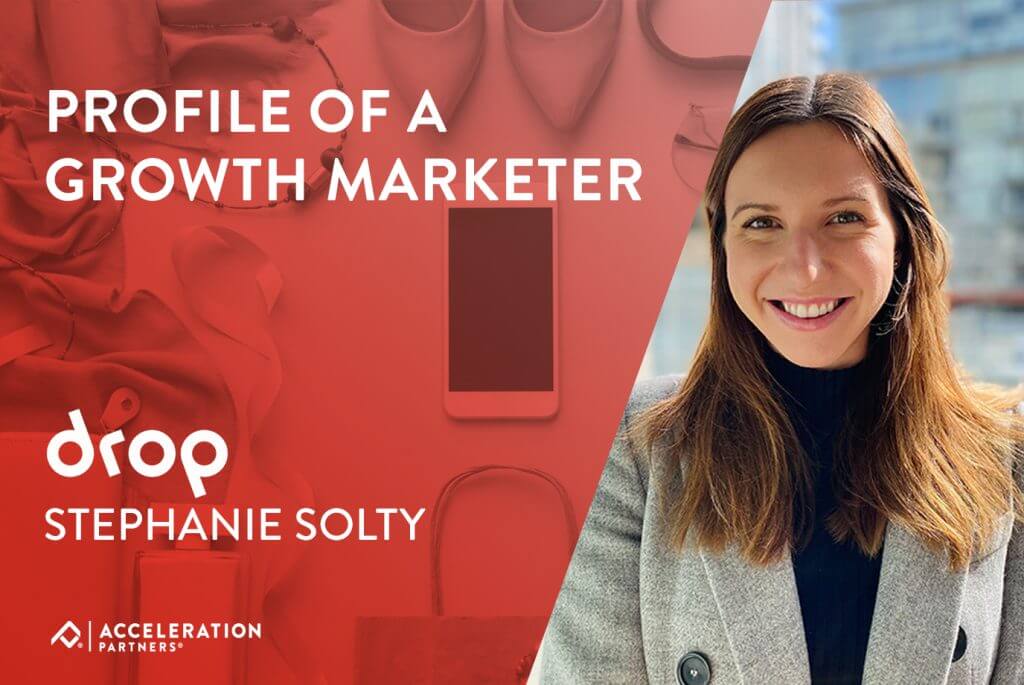 Profile of a Growth Marketer is an ongoing series where we feature partner marketing industry leaders from around the globe.
We sat down with Stephanie Solty, Senior User Acquisition Manager at Drop, to learn more about her role in the company, and how Drop is placing the earning and redemption process of their free rewards app completely in the hands of their users.
What do you do in your role at Drop?
I lead Drop's user acquisition strategy, which includes managing all of Drop's performance marketing initiatives focused on new customer acquisition and ROI for both paid and organic user acquisition (UA) efforts. Some core paid channels include influencer, affiliate, social and programmatic.
How did you get started in the world of app/mobile marketing?
I saw an ad for Drop during my last year of university and was immediately captivated by the product. This enthusiasm led me to reach out through the contact form listed on Drop's website to inquire about becoming an ambassador.
To my surprise, Drop's CEO – Derrick Fung – replied, and after a couple meetings I was given the green light to head up Drop's first Campus Ambassador program at Queen's University. The relationship built with Derrick and the early employees at Drop during this time eventually led me into a full-time role at Drop, joining as the third marketer on the team back in 2018.
What does a typical weekday look like for you?
Honestly? There's nothing typical about your days when you work at a startup, but I think that's one of the things I enjoy most about working at a place like Drop – each day presents new challenges and opportunities for growth.
A day in my life could include anything from running metrics reports and projections, syncing with external agencies/partners to discuss channel performance and optimization strategies, and collaborating with internal teams on initiatives related to member growth, among other things.
What is Drop all about?
Drop is a free rewards app, available on Android and iOS, that's rewarding the lives of over 4 million members every single day.
With Drop, members are rewarded for everyday activities they love – whether that's ordering late night delivery from Uber Eats, buying some new WFH wear from lululemon, playing a mobile game to decompress after a long day or taking a survey while channel surfing.
The points earned from these activities can then be redeemed for gift cards at popular brands like Amazon, Sephora, Starbucks, and tons more!
What makes Drop so innovative?
Our founders, Derrick, Cam, and Darren, wanted to disrupt the traditional loyalty program by turning it on its head. Drop is digital first, and always will be.
The entire earning and redemption process is completely in the hands of our users. Earn on your own terms, redeem on your own terms. There's no calling a support line to redeem your points, only to be met with red tape on the other side. It's seamless, straight-forward, and fun.
From your experience, how has the affiliate marketing model added value to Drop?
Given its Cost Per Action (CPA)-based nature, affiliate marketing has allowed us to effectively scale our customer acquisition strategy, while maintaining low costs and generating high returns.
What are the advantages of working with Acceleration Partners?
From the very beginning, Acceleration Partners has felt like an extension of the Drop team and can be relied upon to deliver with the same level of operational excellence that you would expect of your internal team.
Working with a lean UA team at Drop, Acceleration Partners has been especially helpful in taking the reins on the following time-intensive elements of building a robust affiliate program:
Identifying and recruiting new partners to grow our program.
Managing the relationships and day-to-day communications with existing partners.
Reporting on WoW and YoY program trends.
What do you see as some of the biggest challenges/opportunities in digital marketing today?
One of the biggest challenges for mobile advertisers today surrounds Apple's privacy changes under iOS 14 and the depreciation of the IDFA. In the post-IDFA world, advertisers' abilities to effectively micro-target and hone in on their ideal customer in their digital advertising campaigns will not be a readily accessible tactic, like it is today.
Additionally, with the shift towards probabilistic modelling and attribution under SkAdNetwork, marketers will have to rethink how they assess key performance indicators like Customer Acquisition Cost (CAC) and Return on Ad Spend (ROAS) of their paid channels.
In this new era of mobile advertising, crafting quality creative and the effective use of first-party data will be the largest opportunities and keys to performance.
About Drop
Headquartered in the heart of Downtown Toronto, Drop is building the next generation rewards platform disrupting the $40+ billion loyalty market with a strong focus on design, user experience and engineering.
Drop is the first flexible, consumer-led intelligent mobile rewards platform focusing on personalized member experiences. With over 4 million members, Drop is one of the fastest-growing apps, hitting top 3 in the App Store's Lifestyle category. The best part is – it's completely free to download and use!
Drop members earn points from shopping through the app, and can instantly redeem rewards with all of their favorite brands. Members can also link debit and/or credit card(s) to earn points from select brands, eliminating the need to scan receipts or sign up for additional loyalty programs. Every 1,000 points you earn is equivalent to $1.00.
Drop's executing fast and growing quickly – their current team is a passionate and diverse group with experience from top startups and Fortune 500 companies such as Airbnb, Amazon, Wayfair, Facebook, Microsoft and Goldman Sachs.
Check out many of the other leading brands who trust our team to manage their affiliate programs on our Clients page.