 Employee Spotlight: Sarah Johnson Dayes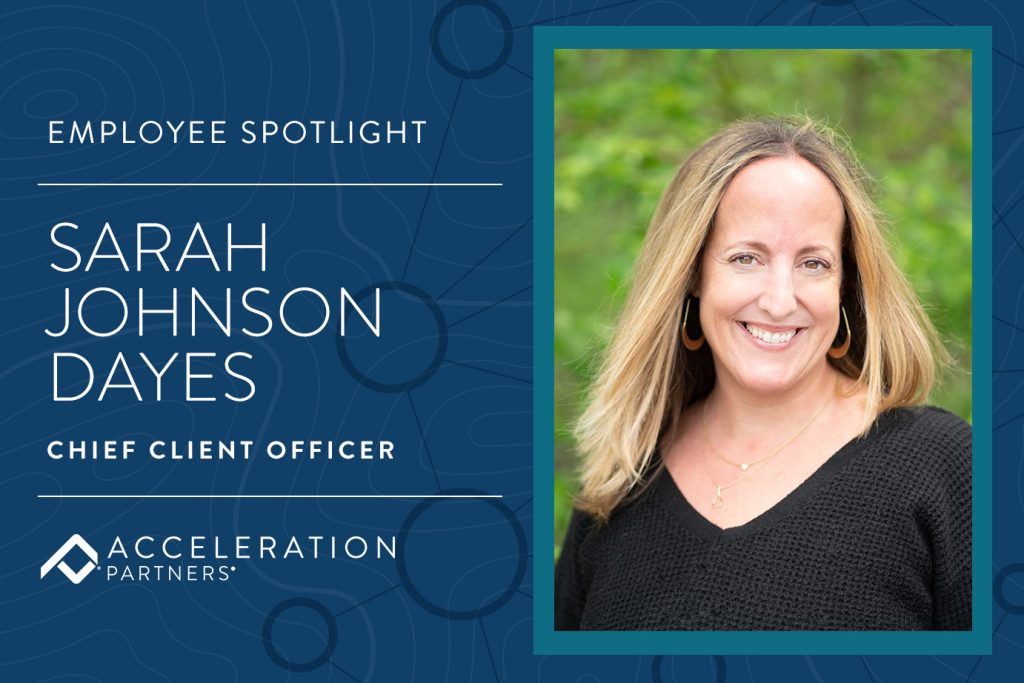 As Acceleration Partners' Chief Client Officer, Sarah Johnson Dayes wears many impressive hats.  She's served on Acceleration Partners' leadership team for over nine years, is responsible for the success of our 150-member client services team and the happiness of our clients.
She has been especially instrumental in shepherding the success of our key accounts, including Target and adidas, and has been the driving force behind AP's innovative and creative problem-solving culture.
As a dedicated partner to our clients and leader of Acceleration Partners' Client Services team, Sarah has provided high customer satisfaction and leadership skills that go above and beyond. In fact, as a result of Sarah's strong leadership and guidance throughout 2020's turbulence and uncertainty:
Acceleration Partners attained a Net Promoter Score (NPS) of 64 – an increase of 12 points YoY, far exceeding the industry NPS average of 43-50.
Our 2021 client retention rate of 86% reflects our clients continued high-satisfaction with and confidence in our team's expertise and service.
To introduce you to this wonder woman, we asked Sarah to share a bit about herself, her perspectives on the affiliate industry and what she enjoys most about working at Acceleration Partners.
What are a few things we'd might not guess about you?
Sometimes I feel like I've lived a few lives! My college degree is in Marine Biology. I actually spent the best semester of my life on an island at a marine lab. But, I really only studied this because I thought it was fascinating.
I always knew I wanted to go into business, not train dolphins. So, after a few years in corporate America, I opened a fashion e-commerce retail business and a store on Boston's Newbury Street for 7 years before coming to Acceleration Partners. Today, I live in Brooklyn with the loves of my life, my husband and two toddlers (15 months apart – they are almost like twins!)
How did you find yourself working in the affiliate marketing space?
By chance really. I started working in the general e-commerce space around 2004, so I have engaged with a lot of channels since then. With my business, I did have an affiliate program, but now I realize that I had no idea what I was doing and I definitely wasted a lot of money on sketchy affiliates. I'm over it now though. 🙂 Then, as I was finding my way after I closed my business, I found Acceleration Partners, and that evolved into working in the affiliate space.
What are some misconceptions about affiliate marketing?
Some still perceive affiliate marketing as being a channel that facilitates and supports fraudulent or sneaky behaviors. In reality, it has evolved well beyond that. However, misperceptions still exist.
Additionally, I don't think most people realize the complexity and strategy that goes into a well-managed affiliate program. There is a lot to know and do in order to develop a program that's both smart and successful.
How did you come to work at Acceleration Partners?
After I decided to close my business, I was trying to figure out what to do with my life. When I came across an ad Acceleration Partners had posted, I was freelancing in the digital marketing world and with working with local businesses in NYC.
At the time, there were only a few people working at Acceleration Partners and they needed help with some account-based work. Even though it was a support role and a bit of a step down in terms of my experience, the job description was really smart and thoughtful. So, I responded. Once I talked with Bob and the team, I knew Acceleration Partners was a company I wanted to be a part of.
I always tell Bob that Acceleration Partners was the best Craigslist ad I ever answered!
Most memorable Acceleration Partners moment?
Our team-building "Amazing Race"- style event at an AP Summit several years ago. We were all running around Boston in teams. I'll never forget seeing our President Matt Wool jump into a pool for a photo op, our team accosting strangers to get points and, of course, my team winning! (I'm "a little" competitive…).
Had you worked remotely prior to Acceleration Partners?
Yes. Since I had my own business for 7 years, I worked remotely fairly often once the business was up and running and I didn't need to be in the retail store or warehouse every day. I knew I could never go back to working in an office after that!
What do you like most about Acceleration Partners' remote work environment?
Time with my kids. Not commuting gives me an hour in the morning and two hours in the evening to spend with my kids that I wouldn't have otherwise. I typically hide out from them most of the day, but I can also help put them down for their nap occasionally or just grab a cuddle if I need a break.
Life outside of Acceleration Partners. What do you enjoy doing?
I spend most of my weekends exploring Brooklyn with my family – there's always something new to do, see or visit. Last weekend we went to a family-focused afternoon dance party at a club DJ'd by Questlove. So fun. I try to take advantage of these "only in Brooklyn" type opportunities whenever I can
I also am obsessed with my Peloton and try to ride at least four times a week and confess to binge-watching Netflix whenever I travel for work; a silver lining when I'm traveling and missing my family.
What's your favorite memory of working at Acceleration Partners?
There are so many. Our first official company off-site has to be one of them. There were about 8 of us in the company at the time and we spent a weekend in a house in Vermont. In between work sessions, we cooked for each other, played icebreaker/trust building games, and went on an epic icy hike that turned into an inadvertent team-building activity.
Piece of advice you'd give to new Acceleration Partners hires?
There is SO much opportunity at AP. If you want to grow and are committed to putting in the effort, you can make it happen. If you see something we can do better/faster/stronger, or an opportunity that we haven't tapped yet, you're encouraged to raise your hand and say something.
Our culture truly fosters and rewards innovation. Be open and honest with yourself and your team, and ready to give and get feedback, both positive and constructive. At Acceleration Partners, we understand that this is key to our success as individuals and a company.
To find open positions at Acceleration Partners, please visit our Careers page.

To learn more about how our top-notch account team can help your brand, contact us.
This blog post was updated October 19, 2022.