 6 Instances When You Should NOT Take Your Affiliate Program In-House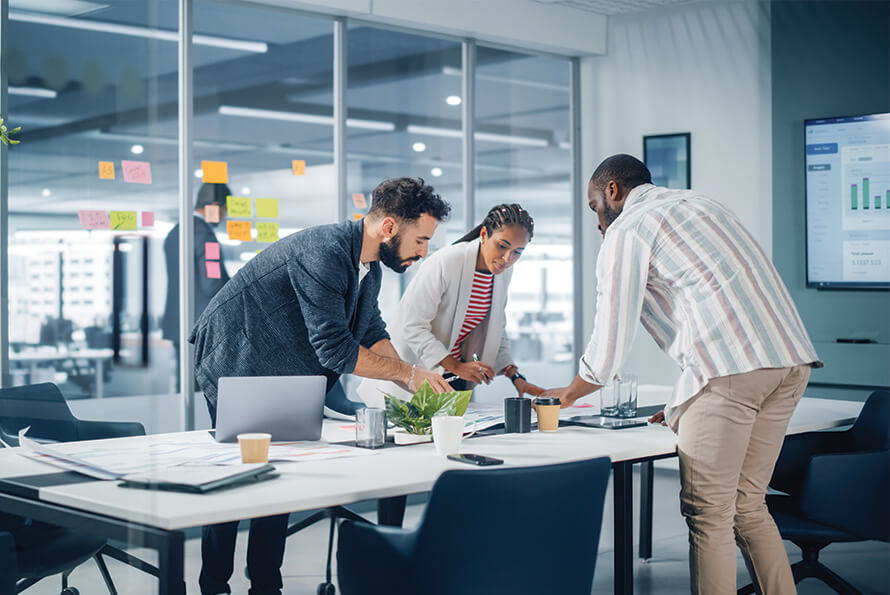 When a global economy experiences uncertain times and market inflation, many companies first instinct is to tighten their belts and cut budget. One of the biggest missteps we're seeing is that it's always a smart idea to bring your brand's affiliate program in-house if you're looking to save money. While there are times when this might be a necessary solution, it's important to be aware of what you could be losing in the process.
With paid marketing costs on the rise (Meta CPM up 30%, Google CPM up 198%, and TikTok CPM up 92%), brands are leaning into affiliate marketing – where they only pay for performance. In a recent survey, 1 in 3 UK brands spend at least £600k per year on affiliate marketing, with 46% planning to spend a higher portion of their marketing budget on affiliate marketing over the next year.
Affiliate marketing is a strategic opportunity for brands and bringing it in-house could mean losing the guidance and expertise this channel needs to succeed.
Consider these six instances you should NOT take your affiliate program in-house if you want to cost-effectively boost performance:
1. Lack of partner development experience
Proper affiliate and partner recruitment, activation and optimization are vital to any program's success. When working with an agency like Acceleration Partners, you are also getting access to a dedicated partner development team focused on finding and onboarding new, creative partnerships that will help your brand meet your unique goals.
Without the years of knowledge and a strong network of partners at your disposal, your in-house team must take on the overwhelming task of doing this all themselves. In-house teams often rely on cookie-cutter tactics and traditional partners, instead of building a well-rounded partnership strategy tailored to your business's specific needs and KPIs.
A top-notch partner development team does all of the following for your brand:
Manage day-to-day partner relationships and communication
Nurture partnerships to help a program realize sustainable and scalable growth
Actively attract new partners that align with business goals
Recruit diverse partner types that have the ability to drive incremental value
Stay up-to-date on partner trends and new opportunities
By taking your program in-house, you're also taking away the ability for your brand to successfully find, build and nurture strong partner relationships.
2. Ambitious growth goals
Does your brand have ambitious growth goals? Are you looking to double revenue from certain affiliate partners? Are you looking to incrementally increase clicks or sales? All of these goals require an experienced team of account managers who can leverage their proven success and out-of-the-box solutions.
If you take your program in-house, it's important to consider the reality that you'll be doing so with fewer resources, limited time, and less affiliate experience. If you only have one or two internal marketers able to dedicate a portion of their time to affiliate marketing, their efforts will be stretched thin and ambitious growth goals will need to be re-evaluated. Stretch goals like doubling performance require an experienced team that can provide a consistent, hands-on approach to delivering desired outcomes.
Read our case study to learn how Acceleration Partners helped Renogy reach their ambitious revenue goals, resulting in a 1356% increase in total revenue YoY.
3. Stagnant affiliate program
If you have an existing affiliate program that's gone stagnant and isn't performing as well as you were hoping it would – don't think your only option is to cut budget and bring it in-house, making it an internal problem. Less spending isn't going to fix your stagnant program. What is going to revive your program is bring it to an agency like Acceleration Partners that can help you jumpstart your program back to life.
Acceleration Partners will learn the ins and outs of your business to develop a transparent and results-driven program strategy that keeps your company's best interests in mind. We will never take a set-it-and-forget-it approach to your program. Partners should never just be hanging around and being reactive. With our team, you'll get:
Ongoing partner recruitment and refinement with a focus on diversifying partnerships
Deep analysis on where new leads or sales are coming from so that relationships with partners who brought them in get fortified
Alignment on your brand's growth goals and KPIs
Streamlined processes to ensure quality time is being spent on program improvement
We believe every program should be unique to your brand with data-driven expertise to achieve the best results.
4. Complex program management
Another instance when you should consider using an agency over bringing your affiliate program in-house is if you have a complicated, nuanced program that needs a higher-level of skill to oversee.
For example: some businesses might have a B2B and a B2C side to their company. In the case of a multifaceted business structure, you might need to implement two different affiliate programs and a sophisticated program strategy.
Discover how we helped a client establish a second affiliate program, resulting in a 49% "sell" store lead conversion rate and a 173% increase in lead generation goals.
If your affiliate program or business is particularly complex, relying on an agency's industry expertise and data analysis allows for a deeper dive into program strategy and campaign evaluation that your in-house team won't be able to provide.
Acceleration Partners' data-driven approach is powered by our proprietary technology, APVision. Our robust platform leverages business and artificial intelligence to combine data from thousands of affiliates across multiple partner networks and platforms, enabling us to stay ahead of trends and identify unique opportunities.
5. New region and market expansion
Expanding into a new region or market is not an easy undertaking, it takes careful planning and execution, boots-on-the-ground team members, and an understanding of local nuances. Bringing your affiliate program in-house if you're hoping to expand into a new market or region would be a mistake.
Acceleration Partners offers the most industry experience when it comes to global partnership marketing, thanks to our extensive regional expertise and in-country support. Our teams operate in over 40 countries with employees who are fluent in a collective 20 languages. We also nurture a massive global network of partners, with more than 65k existing click-active partnerships worldwide.
In addition, by selecting an agency like Acceleration Partners and not taking your program in-house, you have insight into the regional language, culture, partners, and business requirements of the market you'd like to expand into.
6. Budget enhancement during market inflation
While this might seem counterintuitive, leaning into an experienced affiliate marketing management agency is actually a safer option for brands looking to budget their marketing dollars while cost-effectively boosting performance. If you lose confidence in your affiliate program and bring it in-house, you're essentially keeping this lucrative channel from producing high returns because you're limiting your resources.
It's become increasingly important for brands to be savvy with budget and lean into their affiliate marketing channel, which offers full-funnel support, high conversion rates, and lower CPCs than a paid marketing channel.
By having Acceleration Partners oversee your affiliate channel, you can cost-effectively fill in conversion gaps that your paid marketing channels might be missing. Having a fully optimized affiliate program strategically managed by an experienced agency is going to enable your brand to benefit from high-intent conversions and actual outcomes.
Acceleration Partners is the smart choice
At Acceleration Partners, we have the ability to share cross-competitive data and strategy insights that are essential to ensure competitiveness within the market. Our affiliate experience is unmatched and our global approach to partner recruitment, optimization and relationship building with affiliates is world-class.
With our team, you get:
Insight into cross-network capabilities
Access to cross-competition data
Representation at all major industry events
In-depth knowledge of brand positioning
Cross-network compilation reporting
Skilled affiliate experts with years of experience
Agency preferred discounts with large partners
Dedicated partner development team
So, before you decide to cut your affiliate budget and bring your program in-house, consider the key benefits you could be missing out on. With the right agency, you can realize better performance without having to sacrifice budget.
Leverage Acceleration Partners' industry expertise to cost-effectively boost your program performance. Let's connect! Helping brands unlock growth through partnerships.