 Q1 2021 Benchmark Report of Global Affiliate Programs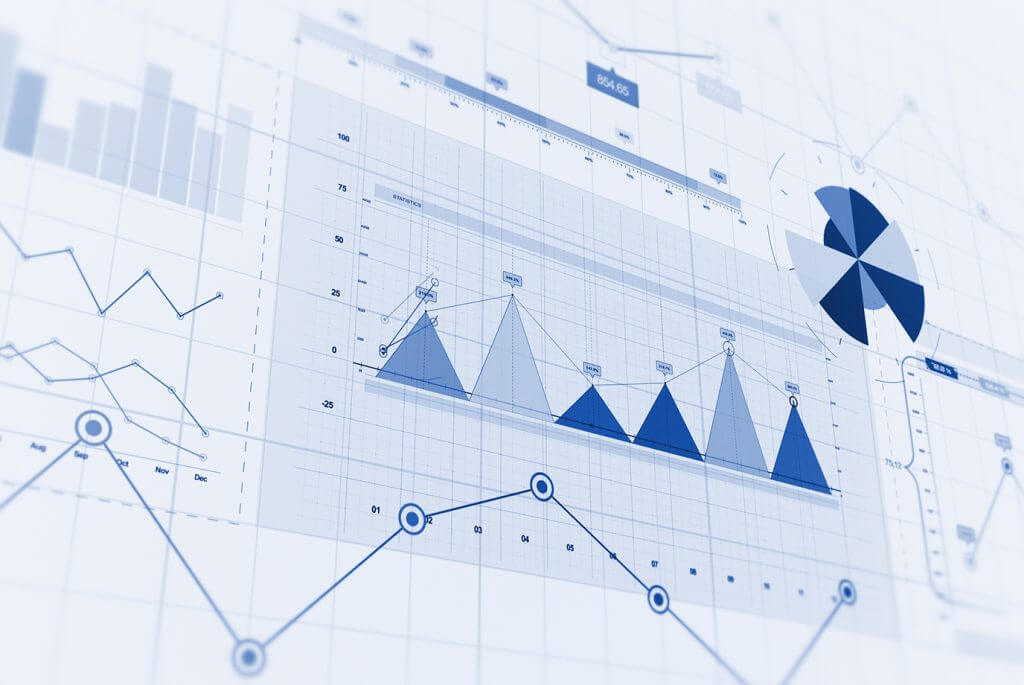 It's true when they say a year can make all the difference. Just one year ago, we were coming off a very strong January and February when things changed drastically in March due to the start of a global pandemic.
However, economic conditions are improving dramatically in the U.S. and across the globe, according to the National Retail Federation (NRF). The NRF expects national retail sales to grow between 6.5–8.2%, reaching more than $4.33 trillion in 2021.
This forecast aligns with the revenue growth that Acceleration Partners' clients have already seen in Q1 of 2021. This past quarter included a 21% revenue growth year-over-year (YoY), but a 86% decrease in clicks as consumers are converting and not just browsing like they were in 2020.
High-Level Overview of the Consumer Landscape in Q1 2021
The global pandemic accelerated shopping behaviors as consumers shifted to digital and mobile commerce more than ever before. According to the recent Adobe Digital Economy Index, January to February 2021 alone saw consumers spend $121 billion online, which was a 34% increase from last year.
Other factors contributing to the increase included a rise in payment methods such as "buy now, pay later," home improvement products growing 60% YoY, apparel growing 22% YoY and consumers continuing to leverage BOPIS (buy online, pick up in-store).
While some industry analysts expect U.S. retail sales to jump in March and April, thanks to the mid-March stimulus checks, others are expecting consumers to save their stimulus checks and tax refunds this year for when they feel comfortable spending again once the vaccines are more widely rolled-out.
In the UK, economists are expecting retail sales to turn positive for the first time since December 2019.  This prediction is based on the growth seen since April 2020, which is when the historic drop occurred. Economists are hopeful for an increase in commerce as we look ahead into Q2 and beyond.
Acceleration Partners' Client Performance Data: Q1 2021 (January – March)
Acceleration Partners' clients experienced double-digit increases in revenue and orders YoY with slight decreases in Average Order Value (AOV) and new customer orders. While clicks were down 86% YoY and AOV was down slightly at 5% YoY, conversion rates increased by 2% YoY.
At the start of the global pandemic in March 2020, we started to see decreases in conversion rates within our clients' programs, yet consumers were clicking on affiliate links. This year, we're seeing consumers converting more; consumer confidence has also increased globally.
Comparing our clients' data between Q1 2020 and Q1 2021, we saw double- and triple-digit increases in revenue across all business models.
Overall, the Q1 2021 "wins" for Acceleration Partners' clients globally included: new customer acquisition campaigns, strong promotions, increased rewards with loyalty partners and content-focused placements.
We saw increases across the board for all business models, including:
Subscription was up 94% in revenue.
Retail clients were up 171% in revenue with new customer orders up 1,348%, thanks to the continued shift to online shopping.

Apparel saw a 45% increase driven by aggressive promotions.
Food and beverage saw a 692% increase as consumers continued to purchase groceries online, while some ordered take-out more than ever before.
Health and wellness grew 140% with consumers focused on finding ways to improve their well-being.
Household grew 309% due to the lasting "pandemic nesting" trend.

Technology clients were up 1,012% in orders and 503% in revenue as businesses continued to invest in their employees working from home, as well as other businesses starting to open up more as the vaccine rollouts continue.
Direct-to-Consumer (DTC) clients saw a remarkable 143% increase in revenue and new customer orders up 27%. While brand loyalty declined in 2020, consumers in 2021 are far more open to exploring new brands.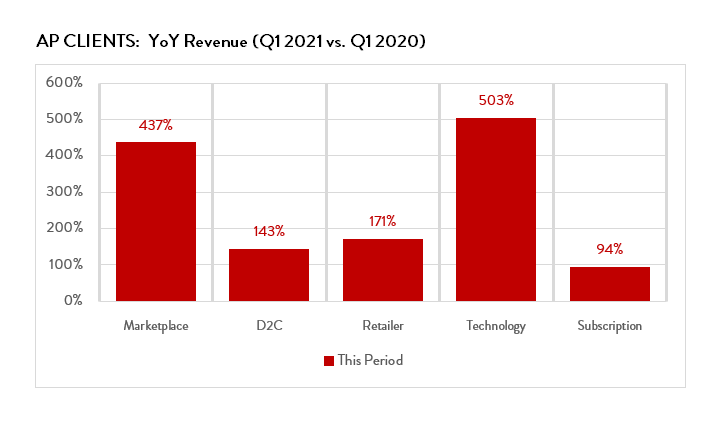 *This data is based on revenue only and does not include other "actions" such as lead-based programs.
**This data does not include Streamline Marketing clients. 
Affiliate Partners' Performance Data: Q1 2021 (January – March)
Revenue from all affiliate partner types were up YoY, with the exception of revenue from coupon partners, which were down slightly (less than 1%), driven by a 13% decline in clicks and a 46% decline in commissions.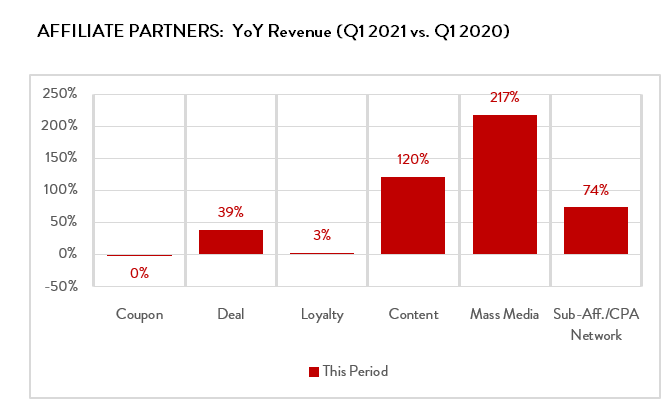 Up Next … Quarterly Benchmark Reports of Client Affiliate Programs
We will continue to share our client data quarterly for the rest of 2021. Look for the next report on Q2 to be shared in July.
Questions about this data or the strategies other brands are finding successful? Contact our team!