 Q&A with Helen Southgate: Scaling the Next Stage of AP's Global Growth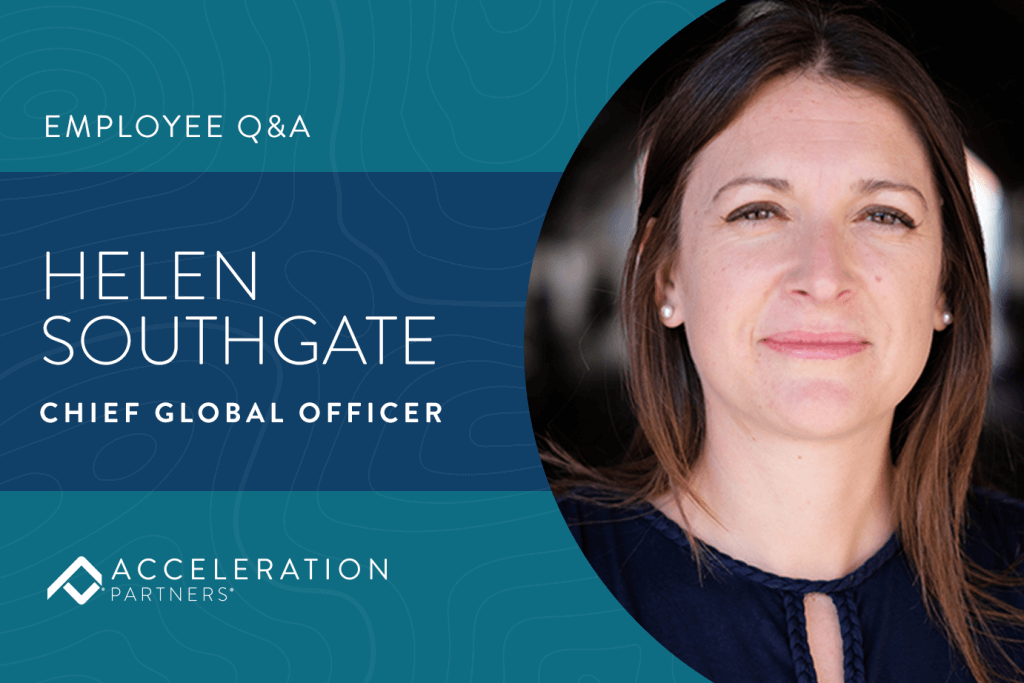 We caught up with Helen to find out how her new role as Chief Global Officer will be instrumental in driving Acceleration Partners' ambitious growth strategy and delivering a globally inclusive culture.
Thanks for taking part! To kick off, can you share some insights about how the company has grown into what it is today?
When I joined Acceleration Partners in 2017, we were a quarter of our size and didn't have a footprint in Europe or APAC.  Since then, our US business has continued to grow, and we have thriving operations in South America, EMEA and APAC. We work with some of the biggest brands in the world and continually improve our services and offerings as we scale regionally and globally.
You were previously the Managing Director for the EMEA & APAC regions. Can you share how these regions have developed since their launch?
We have over 60 people outside the US located across South America, EMEA and APAC. In addition, last year, we opened our German entity, Acceleration Partners GmbH, to support our client and employee growth across Europe. Global growth and development are crucial strategies for many of our clients, and we continue to develop the EMEA and APAC regions to support that.
Employees at Acceleration Partners speak over 20 different languages. What are the most important areas to consider when delivering a globally inclusive culture?
Every company has its own established culture, and company values must be felt and delivered across the entire organization – regardless of where people reside. However, there are vital differences in background and culture across countries, a company needs to understand and embrace those to create an inclusive, diverse workforce where creativity thrives.
Your new role as Chief Global Officer focuses on expanding AP's global capacity, are you able to share what this will focus on and the benefits for AP's clients?
One of our USPs is our 100% remote working environment, which has supported our employees worldwide. Our remote working strategy has enabled us to build clients' services where needed. We continue to develop our footprint across the world to deliver a consistent and exceptional partnership marketing service and find new areas for growth and innovation.
How would you describe the next phase of growth for Acceleration Partners?
Exciting. The partnership marketing landscape is evolving and becoming a more visible part of the marketing mix. We are keeping ahead of the curve globally to find new ways and ideas to elevate our clients' partnership marketing programs worldwide.
What is your biggest learning from managing teams across borders?
Managing your time and schedule is essential when working across a global team. Although managing time zones and remote working can be challenging, you can mitigate that by working harder to be engaged and engage with your colleagues.
And finally, for anyone looking to learn more about managing global teams, can you recommend any resources?
"The Culture Map" by Erin Myers is a great book to help you understand how people may work differently depending on their background and cultural upbringing. I would also recommend "Rebel Ideas" by Matthew Sayed, a great thinker and writer and one of the most thought-provoking books I've read on diverse thinking, which is essential to harbor creativity across a global workforce.
To find out more information about AP's company culture, visit our company page.