 Partner Spotlight: TopCashback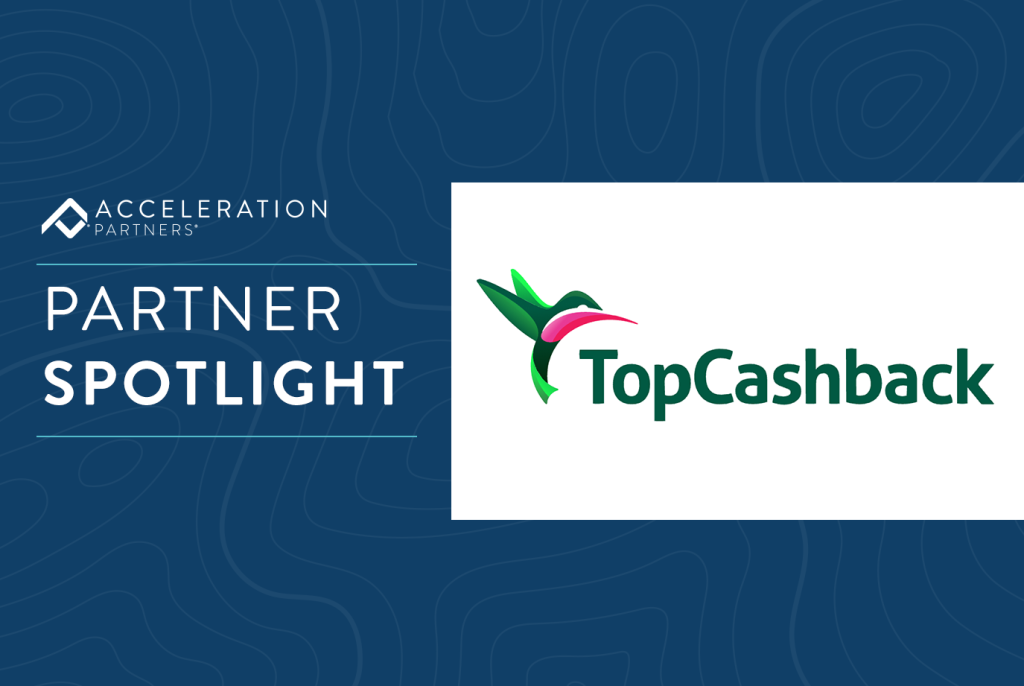 Acceleration Partners' Partner Spotlight is an ongoing series where members of our Publisher Development team highlight different partners from across the world.
This month, David Vince, Senior Partner Development Manager for EMEA at Acceleration Partners, caught up with Hattie Jackson, Head of Partnerships at TopCashback.
Welcome to our Partner Spotlight! Would you mind introducing yourself to our readers?
I'm Hattie and I head up the UK Partnerships Team at TopCashback. I joined the company in 2013, which at the time, we were celebrating hitting 2 million members. It's been an exciting journey over the past eight years, expanding into new regions and growing our member base to over 20 million globally. We now operate in six countries, with the aim to save our members as much money as possible in a fair and sustainable way.
There has always been a lot of discussion about incrementality in affiliate marketing, especially with loyalty/cashback sites. How have you been able to address those concerns?
I think the interesting thing about incrementality is that it means something different to everyone. We see our role within the partnerships team as understanding what each brand values and tailoring campaigns to help drive performance. For fashion brands, it might involve driving new customer sales via mobile, whereas for takeaway brands, it may be about driving more frequency. And for electrical brands, it could be about increasing average order value.
Our team are experts at tailoring campaigns so our advertisers can drive sales to add value. We know one size doesn't fit all, so we aim to use our experience and data to deliver the best possible performance that is right for each advertiser.
We have seen TopCashback growing more outside of the UK, with the German market seeming to be a big focus for you guys. Can you tell us a little more about that, and are there any other markets you are looking at for growth right now?
Global expansion is certainly a high priority, as we continue to fulfil our goal of saving as many people money as possible. We launched our German site back in 2019 and despite the pandemic, it is going strong. We have a fantastic German team that understands the market and works tirelessly to bring our German members the biggest savings.
We were also delighted to have Refunder, the Swedish Cashback site, join our group at the start of the year and have already taken many lessons from their approach to cashback. In terms of what's next, we are focusing on delivering the best possible service for our members across all regions.
TopCashback has moved into the browser extension world. What has the take-up been like, and what have been the main challenges with offering this tool to your users?
We recently relaunched our browser extension in the UK off the back of the success we have been having in the U.S. We know our members like using the tool, as they shop more frequently and spend more when they have it installed.
We have also seen a shift in perception from advertisers; those who were once skeptical are now seeing the benefits. It's still in the early days for the product in the UK, but as more members start to download the extension, the more data we will be able to analyze and share with our advertisers.
This last year has obviously been a very challenging one for several reasons. From the data you have seen at TopCashback, have there been any significant and/or surprising changes in user activity during this time?
It has certainly been a challenging year, and we have tried to support our advertisers as best we can, particularly those in the most affected industries. As you might imagine, we saw the biggest drop in travel, and we expect it will take time for consumer confidence to return. It wasn't only travel that has struggled, brands across the shopping category struggled with the dramatic increase in online demand.
During the first lockdown, we saw categories such as home and garden, food and drink, and home fitness and athleisure wear soar in popularity as people tried to find ways to entertain themselves at home. We also saw an increase in cards and gifting as people desperately tried to stay connected during lockdown. Interestingly, we have seen the home and garden and food and drink categories continue to grow in UK lockdowns 2 and 3, but cards and gifting and home fitness and athleisure wear hasn't seen the same resurgence.
What does the next year look like for TopCashback?
The year ahead is looking exciting. We are keen to get back into the office and see our colleagues, start having face-to-face meetings and attend conferences. We are a social bunch and have really missed the energy of industry events! As a business, we will continue to strive to give our members the best possible experience and uphold our title as the UK's most generous cashback site. With our fair play policy at the heart of everything we do, we hope to grow our member base globally while continuing to build strong relationships with our partners.
If you could be any superhero, which one would you be and why?
I'm no expert on superheroes, so I've had to do some research to answer this question! My gut reaction is Wonder Woman—she just seems to effortlessly save the day and I like her outfit. After Googling her superpowers, I realized that many of her qualities really represent the ethos of the TCB Partnerships team. She has superhuman agility, stamina, durability and empathy. These are also qualities that the team has shown in abundance over the past challenging 18 months.
To learn more about the many other affiliate partners we work with to add value to our clients' programs, reach out to our global publisher development team.