 Employee Spotlight: Amelia Glynn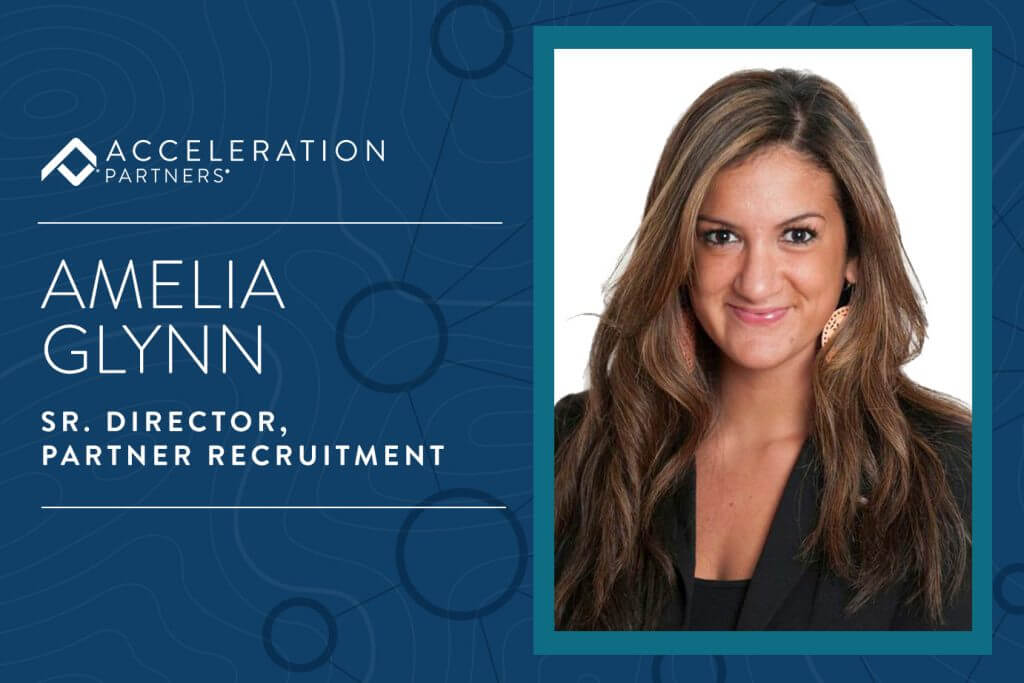 In this month's edition of our Employee Spotlight series, we caught up with Amelia Glynn, Senior Director of Partner Recruitment. Learn about how Acceleration Partners (AP) set Amelia up for long-term success and career growth, and why she ultimately decided to return to AP as part of our Grovia by Acceleration Partners client services team.
Welcome to our Employee Spotlight series! Tell us a little bit about what you do as Senior Director of Partner Recruitment.
As Senior Director of Partner Recruitment, I lead the client services team for Grovia by Acceleration Partners, an organization AP recently acquired in April of 2022. My role within the team is to ensure we're delivering exemplary services to the brands we work with through high-caliber recruitment and partner relationship strategies.
I'm also hyper-focused on integrating the super star team of 'Grovians' into the larger AP organization. My goal is to ensure we bridge the two organizations together from a culture standpoint, and to leverage both business's expertise in their respective spaces to help the overall organization excel and improve.
You recently came back to Acceleration Partners after leaving for a little – what made you want to come back to work at AP?
So many things! I quite honestly missed A LOT about AP while I was gone. I was very lucky for the opportunity to work with an amazing organization and people during my time outside of AP. I was able to further sharpen my B2B and lead gen affiliate skills, which has been tremendously helpful in my new role back at AP.
In terms of why I came back, I had been with AP for five years before departing last December, and during those five years, I was able to grow into the marketer, professional and leader I truly wanted to be, largely due to the coaching and support I received. AP's focus on developing their teams, coupled with supplying hands on, ongoing coaching for anyone managing people was instrumental in my ability to find my voice, gain confidence and slowly chip away at the imposter syndrome that had plagued me previously.
AP's leadership team does such a fantastic job of creating a culture where individuals are encouraged to be themselves, speak their mind and challenge the status quo, and I value these attributes tremendously. All of that, coupled with missing the fun stuff, like our hub events, our Annual Wellness Challenge and AP Summit gave me all the FOMO I needed to come running back when I learned about the amazing opportunity to lead the Grovia client services team—a new role that would once again allow me the opportunity to continue my growth by working with an amazing team and learning from the best leaders in the business.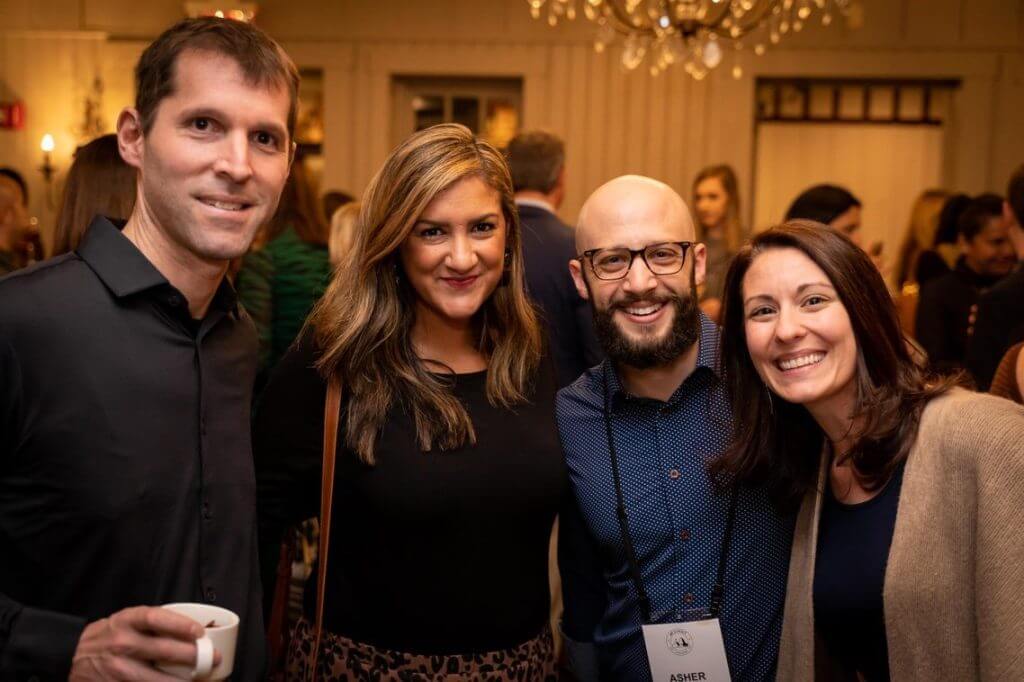 What are some key affiliate industry trends you're seeing right now?
It is such an interesting time in affiliate, and across the general marketing industry. We're on the cusp of a recession, or in it—depending on which news outlet you follow, and businesses of all shapes and sizes are concerned about their current pipeline of business and what the future holds.
And just as businesses did at the height of the Covid-19 pandemic, businesses are once again leaning into affiliate as a safe-haven channel, given its cost per acquisition nature. Unlike other cost-per-click channels, affiliate is a low-risk channel that can protect a brand's bottom line during uncertain times.
Affiliate has evolved tremendously over the past five years, and virtually every marketing channel can now be run via affiliate marketing. We're starting to see more and more brands realize they can run influencer, TikTok and Instagram campaigns through their affiliate programs, thus ensuring a much healthier ROAS.
Brands are savvier than ever when it comes to other traditional channels like PPC, recognizing they can leverage affiliate to drive down competitive presence on their target keywords. So, while the recession is leading to conservative marketing spend across the industry, brands are actually doing the opposite and leaning into affiliate more than ever.
What kinds of partners are you currently looking to recruit to Acceleration Partners?
Any and all partners! Our team works with brands across a variety of verticals, including health, wellness, Fin-Tech, SaaS, B2B, B2C, travel, ticketing—you name it. We are always looking for innovative partners to grow our clients' programs and are open to all conversations if an affiliate plays in our space.
In what ways has Acceleration Partners enabled you to pursue the career growth and leadership you want to see in your life?
Prior to coming to AP, I had worked at a SaaS start-up for about eight years, and over time had developed into what I would consider a solid general marketer. I craved more training and education and wanted so badly to take my skillset to the next level, but didn't quite know where to turn. Then I saw a job posting for AP, and it all changed.
At the time, AP was launching its first-ever Affiliate Academy, a six-week training program that would train general marketers about the ins and outs of affiliate marketing. I pounced on the opportunity and was lucky enough to be AP's first graduate of the Affiliate Academy. Everything that has transpired since I graduated from that academy has really been the stuff of my professional dreams becoming a reality.
I was fortunate enough to elevate five times, getting to the point of leading large teams, supporting over 50 different brands in achieving their affiliate channel goals and having full circle moments like training new members of Affiliate Academy as they onboarded. For me, the most enjoyable and rewarding part of it all is the small stuff, like when someone on my team has a challenge they don't quite know how to solve for, and we work through it together to get to the other side.
Seeing my team members grow, understand their value, and elevate their careers is the best part of my job. AP not only empowers me to do that, but taught me how to.
When you're not working, what can we find you doing?
Mostly being a mom to my five-year-old daughter, Kennedy. I spend a lot of my days pretending to be a Barbie character, dressing up as a superhero, or singing all of the words to the Encanto soundtrack in my kitchen while dancing with my hubby and kiddo.
And when I'm not mom-ing, my absolute favorite thing to do is embrace my love for home décor. I created an Instagram account earlier this year where I catalogue and share my home décor and DIY projects and have been slowly developing a following, which is so fun. And finally, I'm a Bravo-holic and could school anyone on Real Housewife knowledge any day, any time.
Finally, if you could have any superpower, what would it be?
I'm going to get all mushy here, but I was recently asked this question and honestly, it would be to spread empathy to those who lack it. I truly think if we all had more empathy and compassion for those around us, particularly for those who we may consider "different" than us, a lot of the world's current challenges would be healed, and it would be a bit less scary out there.
To find open positions at Acceleration Partners, please visit our Careers page.
To learn more about how our top-notch account team can help your brand, contact us.