May 29th 2020
Brand to brand partnerships is a marketing strategy between two non-competing brands. This type of collaboration allows a brand to align with another brand who shares similar values or customer demographics.
Historically, these brand partnerships have tended to sit within the Business Development function of businesses and were often time-consuming, complex and challenging to scale. Over the last few years, brands are increasingly incorporating these bespoke partnerships into their partner marketing strategies. Running these campaigns on the performance model allows brands to grow revenue at scale while tracking and measuring the success of each campaign on a pay-on-performance basis.
If you'd like to find out more about unlocking growth through new affiliate partnerships download our latest eBook. 
What are brand to brand partnerships?
When thinking about the type of brands to partner with there are no set rules. Some partnerships are evident, while others are more out-of-the-box, the key is to pick brands which align with your values and target audience(s). Campaigns can be anything from a competition on social media, to a placement on-site, a newsletter feature or even a co-branded product. In reality, some of the most successful brand to brand partnerships are opportunities you may never have considered until they happened.
Example one: EasyJet
In this example EasyJet has chosen to partner with brands that offer complimentary travel services, promoting National Express for those customers who wish to book onward travel and GetYourGuide for a customer looking for things to do on their next trip.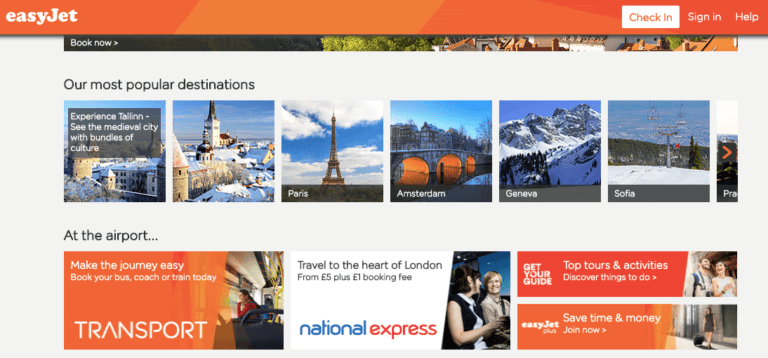 Example two: Cadbury's
In February this year Cadbury, Age UK and Manchester United partnered together to raise awareness of elderly loneliness with their 'Donate Your Words' campaign. For the campaign, Cadbury removed its logo from Dairy Milk bars and donated 30p from every bar sold to Age UK. The campaign also encouraged consumer interaction, asking the public to "donate their words" by reaching out to older people who may be lonely.
Cadbury and Age UK have run partnership campaigns in the past, as they share similar brand values. By including Manchester United Football Club,  the campaign was able to reach a broad, untapped audience.

How to manage, track and measure brand to brand partnerships through the affiliate channel  
The affiliate channel allows brands to run their brand to brand campaigns through the pay-on-performance model and carefully track the success of each campaign.
If you want to get the most out of a brand to brand partnership, it's vital to track, review and optimise your campaigns. Without monitoring your efforts and evaluating the outcomes, it's harder to judge if a brand to brand partnership has been successful or not.
To measure the success of any brand partnership strategy, it's important to set actionable metrics. Be sure to share these with the partner, so everyone involved is working towards the same goals.
Key metrics to look at include:
Cost per lead (CPL) or cost per action (CPA)
Incremental revenue
Return on Investment (ROI)
Average Order Value (AOV)
When analysing the success of a specific brand to brand partnership, look at each metric and compare them to previous campaigns, this will allow you to analyse the efficiency of the current partnership and decide any adjustments that need to take place.
Look at the campaign and review if it bought incremental revenue to the business. What reach did the campaign garner? And did it drive lifetime value? All these are questions to consider when analysing the success of your campaign.
Scaling brand to brand partnerships
If you're looking to scale your brand to brand partnerships through the affiliate channel, specific partners can help to automate this process through the use of plug and play solutions. If you want to find out the latest trends in affiliate partnerships, catch up on our on-demand webinar 'what to know about diversifying your affiliate partnerships' here.
Rokt:
Overview: Rokt Transaction Marketing is built on a uniquely versatile transaction marketing platform that lets advertisers connect with customers when they're most receptive, just after they've made an online purchase with a trusted brand.
How they can help scale brand to brand partnerships:
The Rokt technology allows brands to acquire new customers by powering strategic partnerships on e-commerce sites and introducing customers to brands with the most relevant offers to them. For example, a brand could promote a non-competing but relevant brand on their confirmation page, or send a customer a relevant offer while they are most engaged. Rokt works on a unique payment model, CPR (cost per referral), and allows businesses to work towards achieving their performance marketing goals, whether it be CPR, CPA, or CPI, and maximising their ROI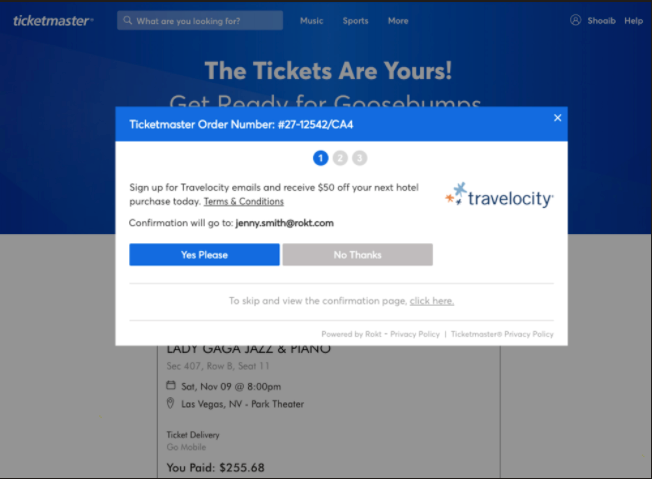 Countries of operation: United States, Australia, United Kingdom, France, Germany, Spain, Japan, Singapore and New Zealand.
Profity:
Overview: Profity is a closed network of e-commerce companies providing gifts to customers typically in the form of vouchers. Partners will receive high-quality traffic along with new sales/clients from a very online savvy target group.
How they can help scale B2B partnerships: Profity allows brands to share offers from relevant brands with their customers. Once a customer purchases on a brands website, they are shown a list of offers available on other eCommerce sites.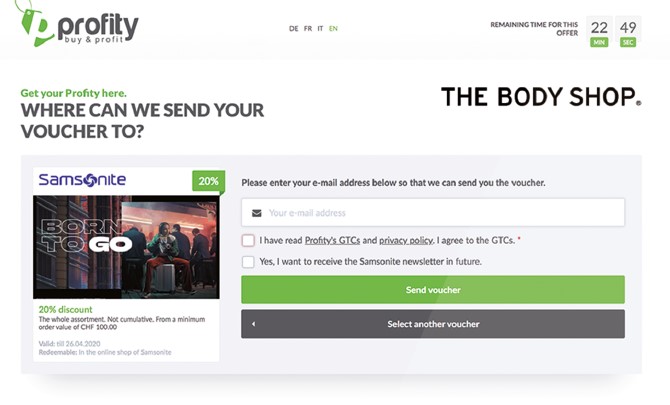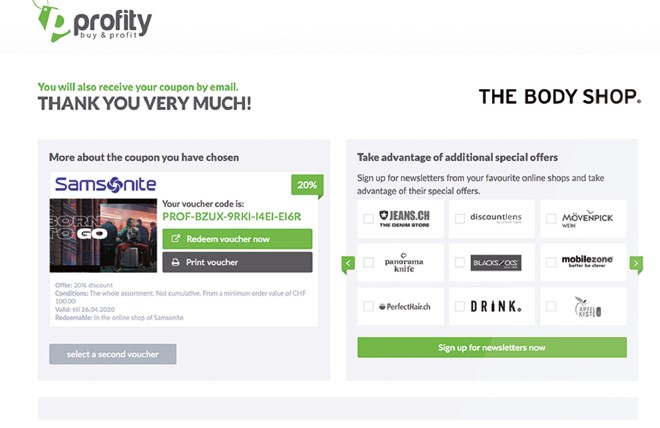 To partner with over 300 brands through Profity's eCommerce network advertiser's need to install a tracking pixel on their site. Brands can choose who to partner with, the only requirement is that they provide an offer or discount code other brands can promote. This partnership works on standard CPA terms and is an excellent way of reaching customers who have 100% purchase intention.
Countries of operation: Switzerland, Germany, Austria, Poland and Italy
Conclusion
Brand to brand partnerships are a great way to generate incremental revenue while enhancing your audience, reputation and overall brand strategy. Any successful brand partnership strategy should be planned carefully,  focusing on selecting brands that have similar targets, values and demographics to your business. If you would like to learn more about the diverse types of affiliate partners that are adding value to many brands' affiliate programmes, download our latest guide.
The affiliate channel is a great way for brands to drive volume and automate brand to brand partnerships as well as being able to test new strategies in the partnerships space.  We expect more brands to incorporate brand to brand partnerships as part of their wider partner marketing strategies in the near future.
If you're looking to diversify your affiliate programme or reach new customers, get in touch with our team today to see how our partner development team can help.
Author: Acceleration Partners