 Employee Spotlight: Tyla Cobb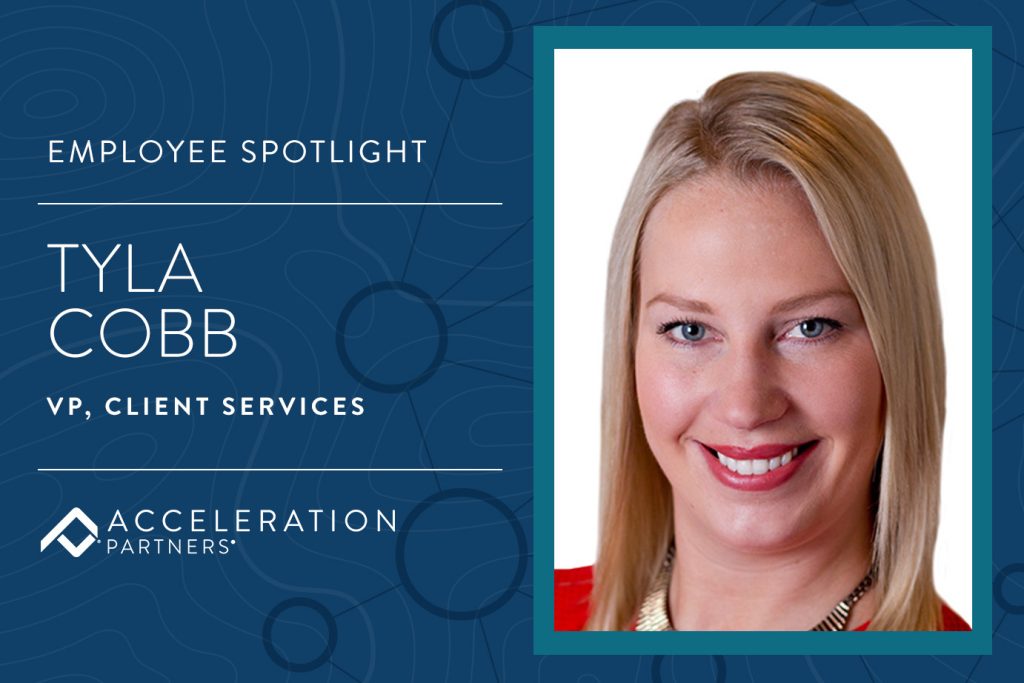 This month we are featuring Tyla Cobb, VP of Client Services, for some of Acceleration Partner's global clients.
Tyla's role includes overseeing the global expansion of clients' affiliate programs and managing a large team working in time zones all over the world.
When's she's not working you can find her practicing yoga, traveling the globe and relishing the sunrise with a cup of coffee.
How did you get into Affiliate Marketing?
I stumbled into affiliate marketing. I graduated college at the height of the great recession and finding a job was nearly impossible. I was able to leverage my network and started my professional path at the Ronald McDonald House doing event planning to help raise funds. This was a 6-month unpaid internship (that is how desperate I was to get a job) but I truly enjoyed working with such an amazing organization.
I eventually ended up in the digital space focusing on email marketing (think triggered emails). About a year later, I leveraged my network yet again and ended up joining the Target.com team in a marketing analyst role. It's here where I dove headfirst into affiliate marketing.
After Target, I ended up moving to the agency side and shortly thereafter found myself at Acceleration Partners, which is the affiliate program management agency I had worked with while at Target.
What excites you about the affiliate marketing industry?
Since I've entered the affiliate space I have worked on over 20 programs and most of them were vastly different. That's the really cool thing about affiliate; each program can be uniquely tailored to the advertiser's needs in so many creative ways.
I also love seeing how we are able to leverage data to test, learn and hone our strategies to ensure we are driving value. Affiliate is still a relationship business, but I argue it is so much more. For example, at Acceleration Partners, we are implementing some very sophisticated strategies that continue to push the industry forward.
If Acceleration Partners had a globetrotter award, you would likely be the front runner. How many places have you been to in the last year and which was your favorite?
Six, including Brazil, London, Amsterdam, Singapore, San Francisco and Las Vegas. Soon to be seven as I'm heading to Mexico City next month. Brazil and Singapore were the most eye-opening in terms of cultural and market differences. I love that, for both of these trips, I was able to extend and leverage Acceleration Partners' flexibility to also enjoy some personal time and explore these amazing countries.
You've been leading the global expansion for some of Acceleration Partners' key affiliate marketing clients. What are some of the challenges of managing a global program?
Oy, this is a biggie. So many components to touch on…
Communication is a big one. For example, for one client, we currently have team members sitting in six different time-zones right now. Try making a team call work with that spread!
Getting the team to constantly think globally and how what is happening in one market can and should be shared with the other markets. Avoiding tunnel vision and constantly encouraging collaboration is key.
The affiliate model is much newer in certain markets than it is in the US, and remembering that our strategies and tactics need to be adjusted by market.
If you could give one piece of advice to new managers who are managing people for the first time, what would it be?
Just one?!?! Impossible so I'll offer three.
Don't (or try your best not to) get caught in the weeds on projects and things that aren't adding true value. Focus on the WHY and creating strategies and tactics that address the root issues/priorities the company as a whole is trying to achieve.
I'd also say, re-calibrate often. Carve out time to think about where you want the program to be in 6 and 12 months and take meaningful steps to get there.
Lastly, don't be afraid to test and fail.
What do you like most about working remotely?
Monday mornings are so much easier when you can ease into the work week in the comfort of your own home. Also, my lunch game is strong with all of my faves at my fingertips.
Fave lunch?
Grilled hot dogs.
And when you're not traveling the world, what is your favorite hobby or activity to do outside of work?
Breaking an intense sweat. I've done Orange Theory, rowing, HIIT, but right now yoga is my lifeline. I try to practice at least 4x per week. It's been critical to my mental health and has played a big role in several aspects of my life. Also, just spending time outside. I love a good sunrise with a cup of coffee.
As VP of Client Services at Acceleration Partners, what's your favorite part of the job?
Working with an amazing team. Acceleration Partners has the best and brightest affiliate marketing professionals in the industry. Our global agency oversees the largest and most complex affiliate programs in the world, so it's safe to say that we've encountered almost every unique challenge one can think of. This has allowed us to readily access and adapt learnings from previous situations. The work can be very challenging but we have an awesome team that keeps things fun.
Lastly and most importantly, if you could have a super power, what would it be?
Teleportation, without a doubt. I love to travel, but for the life of me I cannot sleep on planes….this means global trips typically leave me totally wrecked for a few days. If I could just wake up in Singapore and then poof, I was in my bed… Dreams.
To learn more about how our top-notch account team can help your brand, contact us.
Author: Acceleration Partners