 Employee Spotlight: Christina Polizzi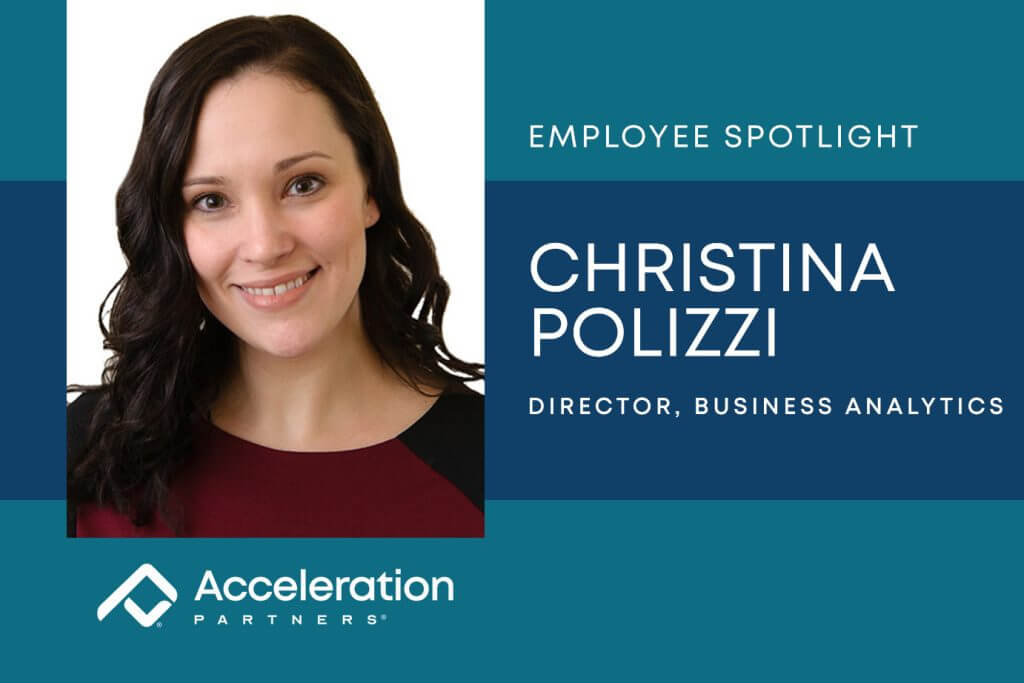 When it comes to analyzing affiliate data in order to measure results and set strategy, there's no one we trust more than Acceleration Partners' (AP) own Director of Business Analytics, Christina Polizzi.
In this month's Employee Spotlight, we chatted with Christina about her ever-evolving role at AP, life in a remote work environment, as well as her latest international adventure.
How do you describe your job to your family and friends?
I support the various departments within AP with data analysis, benchmarking and report creation, as well as making sure our Client Services team is set up with the right tools and resources to provide valuable reporting to our clients.
I love my role because at any given time I have my hands in a variety of different projects and get a chance to collaborate with so many people across the company.
When did you first get excited about insights & analytics?
Working as an account manager in the affiliate industry for a number of years, I would get so excited when I had an opportunity to dig into affiliate program data. Whenever I'd examine client key performance indicators (KPIs), I found myself channeling my inner five-year-old and curiously asking, "but why?" and wanting to really get to the bottom of what was happening in our clients' programs.
I also gravitated towards this area because it's not just about crunching numbers, but making sense of the data, telling the story behind the data, and finding trends and insights that help shape future strategy.
What is one aspect of your job that might surprise people?
One thing that surprised me is how working in an analytical role has pushed me to improve my non-analytical skills.
Having to articulate insights, findings and complex concepts to our greater company has given me an opportunity to focus on my public speaking and storytelling skills. Whenever I approach a new project, I'm flexing my creative thinking and problem-solving muscles as well.
To say the role keeps me on my toes is an understatement!
What is the greatest lesson you've learned in your time working at Acceleration Partners so far?
Acceleration Partners is a fast-growing company and to thrive here, you need to be adaptable and open to change and shifting priorities.
One concept that has really stuck with me is that just because something works today, doesn't mean that it can't be improved or that it will even work tomorrow. I try to bring this thinking to every project I approach and my own professional development by asking myself, "How can I make this better?" or "What else can I learn to drive my skills forward and better support my team?".
AP's core value of Excel & Improve has always been my personal favorite and the one that resonates with me the most.
What have you found is the biggest misconception about working remotely?
I think people assume that remote work is this paradise where you watch Netflix all day in your PJs while casually responding to emails and that it's an easy adjustment.
For me personally, it was challenging to adjust to working from home after joining AP. I was used to working in an office environment where, as an employee, you're expected to sit at a desk for 8+ hours a day and basically have to get permission to step away.
Even though no one was looking over my shoulder, it was hard to turn off the rigid routine and allow myself to fully take advantage of the flexibility that remote work offers. AP is very supportive of work/life integration, so as long as you uphold your responsibilities and communicate with your team, you own your day.
I find that when I add some "me" time throughout my workday (stepping away to read, go for a walk or even take a power nap!), I feel refreshed and more productive both personally and professionally. And okay yes, I do work in my PJs, but only like 70% of the time. 🙂
You are based out of our Philadelphia Hub, however, that's not currently where you're working from. Can you tell us about your current adventure?
One year at annual AP Summit we had to list our top 5 life goals and living abroad was at the top of my list. My husband and I had talked a lot about wanting to live abroad, but never really did anything to pursue it. Putting it down on paper made it feel more real and something I had to hold myself accountable for. This exercise kicked off a larger discussion between my husband and me and living abroad no longer felt like a fantasy, but something we could actually achieve.
Long story short, my husband secured a job teaching English in the public-school system in South Korea on a tiny island 50km northwest of the mainland. The whole experience has pushed us both way outside of our comfort zones and has been incredibly rewarding.
What has been your greatest memory from living in South Korea?
My favorite memory was hiking with my husband to a place on our island called Peace Park, which includes military monuments, trails and a playground. After more huffing and sweating than I'd like to admit, we made it to the top of this steep mountainous area and were rewarded with amazing views of our island's rocky coastline and were able to see mainland North Korea on the horizon. It was at that point that the reality of living on a remote South Korean island really sunk in!
Do you have any recommendations and tips for future travelers to South Korea?
If you're ever in South Korea, do yourself a favor and attend a Korean professional baseball game. It's a wild scene! The energy level is like nothing I've ever seen in the US. There are cheerleaders, plenty of K-Pop and fans launch into specific cheers for every player at bat. One game even had a 7th inning noodle eating contest.
And while you're there, don't forget to enjoy chimaek, which is the combination of fried chicken and beer. Korea's fried chicken is out of this world!
Learn more about Acceleration Partners, our incredible team members and our award-winning culture, check out our Company page.