 Publisher Spotlight: Dealmoon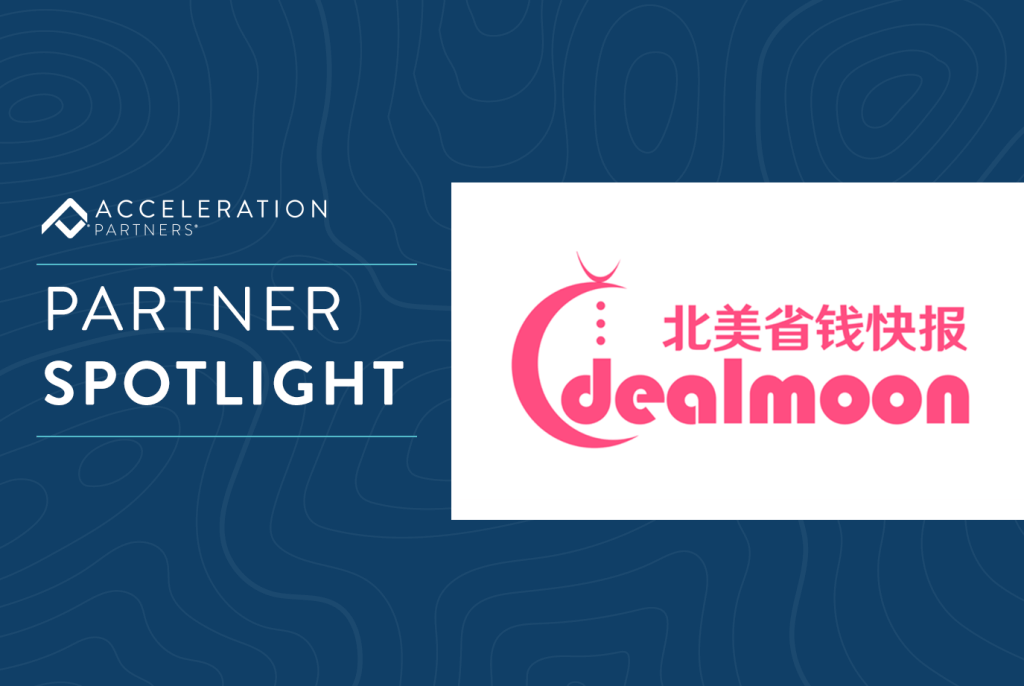 Acceleration Partners' Publisher Spotlight is an ongoing series where members of our Publisher Development team shine a light on innovative publishers from across the world.
This month we chatted with Laura Press, Director of Partnerships at Dealmoon.
Dealmoon reaches over 10 million affluent Chinese shoppers. How did Dealmoon start and how did it get to where it is today?
Dealmoon started over 10 years ago when our six Chinese-American co-founders came together to build a forum for their peers to discuss life and shopping in North America.
In fact, the Chinese characters in Dealmoon's name translate to "A North American Shopping Guide." The site attracts more users every day and now includes articles, buying guides, a local section, Dealmoon Moments (a way for our community to share images of purchased items, their travels, food, workouts, restaurants, etc.) and more!
How can advertisers partner with Dealmoon?
Dealmoon connects online retailers to a very niche audience – the millennial/Gen-Z Chinese expat.
We are the go-to platform for the next big trends, where friends and family come together to share their personal favorites and shopping experiences. Our audience loves luxury (including beautiful packaging) and anything that makes them feel special.
What do you look for when creating new partnerships?
We look for partners that are open to exploring new possibilities and that are excited about growth! Our platform and user interests change on a daily basis and we love it when our partners are open to the latest exciting opportunities.
Our editorial team constantly monitors how our users respond to content on Dealmoon. Working with brands that are able to address an offer change, inventory issue, or customer service inquiry on the fly are always appreciated!
Tell us about Single's Day – what is it, why is it important and how can brands be a part of it with Dealmoon?
Singles' Day is the largest shopping day in the world and is bigger than Black Friday and Cyber Monday combined! It started with several Chinese college students wanting to celebrate the fact that they were single, hence having Single's Day fall on 11/11 (a series of four ones).
Dealmoon was the first publisher to bring Singles' Day to the United States and it provides the perfect opportunity for retailers to test their Cyber Week offers before Thanksgiving. Like Black Friday and Cyber Monday, advertisers will often begin promoting their offers earlier every year in order to stay competitive in their category.
This year, Dealmoon will celebrate Singles' Day from November 5-15, with peak traffic on November 11 & 12. We recommend promoting an offer that is exclusive to Dealmoon to help drive as much traffic and sales as possible on Singles' Day. Since Singles' Day serves as a preview to Cyber Week, any potential offer would need to be on par with Black Friday and/or Cyber Monday deals.
What kind of brands/products/deals resonate with your audience?
Fashion and Beauty are our top performing categories. For our audience, luxury is always the key to success. With that said, we're always looking for ways to evolve and expand, and accordingly, we welcome partnerships with new advertisers that resonate with our community.
Travel, Home and Health are a few of our fastest growing categories. With most verticals, exclusive early access to new products, collaborations, and other strategic partnerships can really help move the needle.
Is there anything else you would like advertisers to know?
While content has always been core to Dealmoon's operations, we've recently been investing more time and resources in video, online-to-offline events, as well as targeting specific users for more personalized shopping experiences.
We also pride ourselves on successfully consulting brands on the best way to position themselves to our community. We hope advertisers can look beyond traditional marketing techniques and see the endless opportunities we have to get their brand in-front of our unique audience.
Finally, what is your favorite website (other than Dealmoon!) to browse during your lunch break?
It's a toss-up between Pinterest (I have a somewhat new house and need decorating ideas!) and The Sleep Lady site. I need to know all the tips and tricks to get my baby to sleep through the night! (How on earth did I do it with my first born?)
Connect with us to learn more about the wide-variety of affiliate partners we recruit, screen, manage and develop for our clients' affiliate and partner marketing programs.
Author: Michelle Morgan