 Employee Spotlight: Nini Yusuff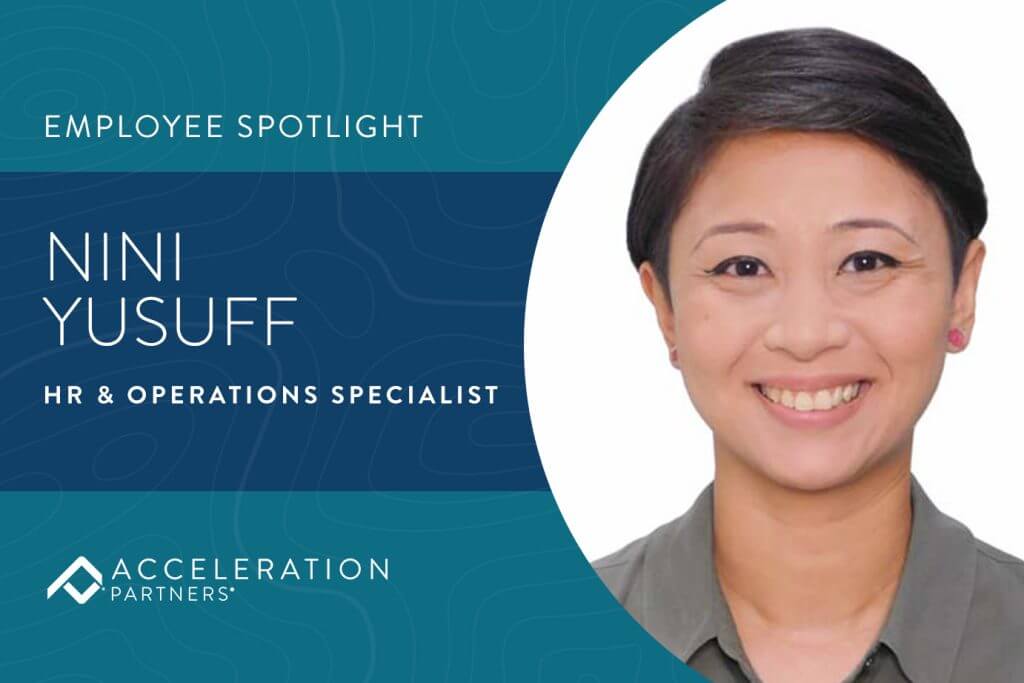 How long have you been with Acceleration Partners and what is your current role?
I have been with Acceleration Partners for over three years and I am an HR & Operations Specialist for the APAC team.
My position is unique in that I perform a multitude of roles. My day could go from settling client billings, to scheduling Acceleration Partners' APAC Twitter posts, to event planning and gifting requests and helping the APAC team with administrative and operational support.
You've been a member of our Singapore hub. How has it been seeing that team grow since you first arrived?
When I joined the Singapore hub, there were only four of us! Now, there are more than ten of us, even after some team members have gone back to the US.
It has been a delight seeing the team grow, the dynamics change and hub meetings getting livelier. It also means that we get to learn more about cultural nuances as the team grows.
What's one aspect of your job that you truly love?
The 100% remote work culture is one aspect that truly appealed to me when I applied for the position, especially as a mother. One and a half years in, I truly love that even with a remote work culture, I have felt more connected and engaged with my team, as compared to a traditional work setting.
What is a fun fact about Singapore that some people may not know?
We love to eat and go grocery shopping, even at 4 am!
That is why you can find restaurants that are open to chill-out sessions and takeaways and even 24-hour supermarkets that are open while the world sleeps.
What would you say is a common misconception about working remotely?
Working remotely equates to free time, all day, every day.
On the contrary and especially as a working mother, it has required me to carve out meaningful pockets of time for work and family. Rather than a set working time of 9 to 5, the company understands and trusts that I will be working, then zoom away to attend to family life and then come back to complete work again.
What is something about yourself that we wouldn't know from looking at your resume?
My past work experiences as a police officer and cabin crew are worlds away from what I do now.
It is safe to say that I tend to veer away from traditional settings. Despite that, I am very much a homebody who enjoys spending time with my family, experimenting with cooking recipes and thinking of the next home decorating project.
To learn more about how Acceleration Partners can help your brand, check out our Global Services page.
To find open positions at Acceleration Partners, please visit our Careers website.
Author: Acceleration Partners