 AP Shortlisted for PMW Award with Stitch Fix & BuzzFeed UK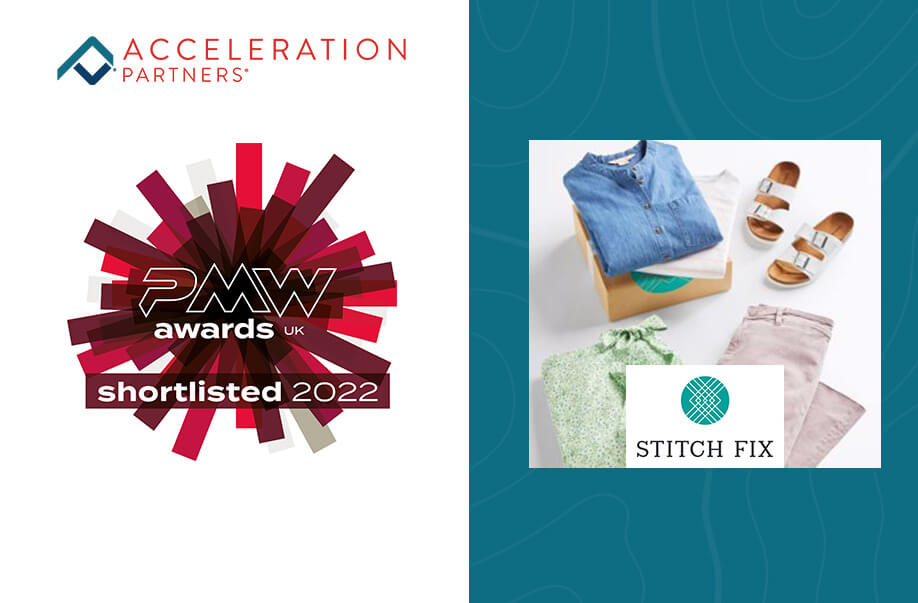 Acceleration Partners has been recognized by Performance Marketing World (PMW) for our content partnership marketing campaign success. We have been shortlisted for their Partner & Affiliate Marketing award, along with our client Stitch Fix and partner BuzzFeed UK! We are incredibly honored to be named as a contender for this award.
The Performance Marketing World Awards UK showcases the best performance marketing practices that have grown new audiences, new markets and world-class businesses. They were created specifically to celebrate this rapidly growing industry by highlighting data-led stories of success. Learn how leaders in this space are making groundbreaking changes and strides in programmatic marketing, influencer marketing, affiliate marketing, and more.
Partner & Affiliate Marketing Award: Authentic Content Campaign Unlocks UK Growth
Stitch Fix is the world's leading online personalized shopping experience. Their unique business model combines the human touch of expert stylists with the precision of advanced data science. Stitch Fix is a smarter, easier and more fun way to shop.
While Stitch Fix was already a well-established brand in the US, they were just two years in the market in the UK. They tasked Acceleration Partners to increase their brand awareness and customer conversions via the affiliate channel in the UK.
Through thoughtful strategy and partnership building, Acceleration Partners brought in BuzzFeed UK—a well-known and trusted content site with an engaged UK audience. Their independent editorial shopping team creates bespoke, first-person product reviews that share their honest opinions of brand experience.
Thanks to a strategically planned and managed campaign, BuzzFeed UK was a top-performing affiliate partner in driving clicks and "First Fix" orders for Stitch Fix. To learn more about this outstanding campaign and partnership, read our case study.
To learn more about this award that Acceleration Partners has been shortlisted for, visit PMW's website.
Congratulations to all award nominees, including many of our clients and partners!
Author: Teagan Fast