 AP Welcomes Several New Brands From Various Business Verticals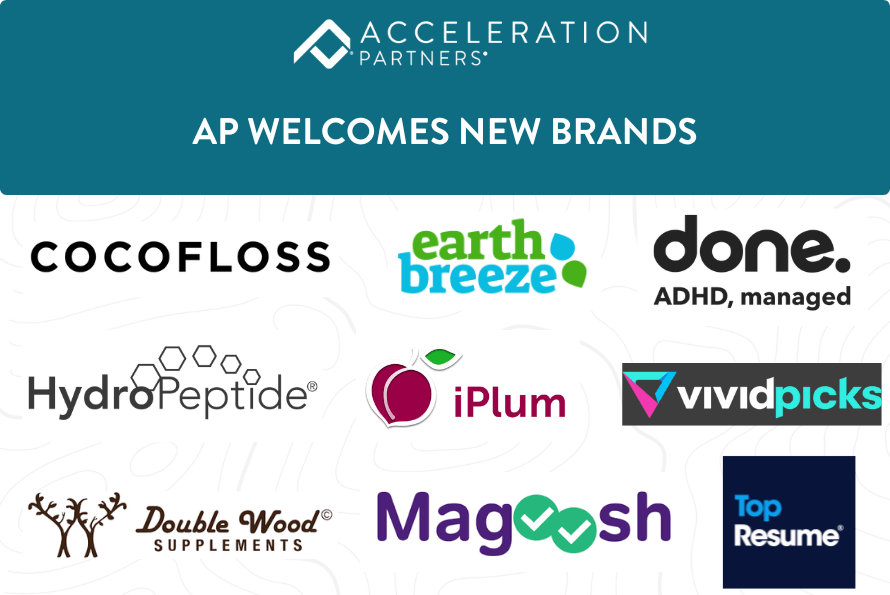 We are delighted to announce that a number of brands from a variety of business verticals, including healthcare, retail, beauty, technology and more, have selected Acceleration Partners (AP) to manage their partnership marketing programs.
With inflation reaching new heights in our global market, consumers are looking to save money and buy from brands they trust, which is where partnership marketing can become a smart solution for brands. Partnership marketing is not only a safer option for budget planning, but key for brands looking to cost-effectively boost performance—like these new brands who have joined AP.
Recent brands to launch partnership marketing programs with AP include:
Cocofloss – Supercharge your smile with Cocofloss, a company that delivers the softest and most-cleansing dental floss. This superior floss grabs plague, holds strong, and stays flexible.
Done. – Anyone with ADHD should be able to receive the help they need so that they can live up to their fullest potential. Through Done.'s holistic approach to ADHD, they are committed to ensuring no one is left behind.
Double Wood – Double Wood Supplements was founded by twin brothers Reese and Evan Wood in 2013 with the sole goal of bringing the revolutionary hangover prevention supplement Dihydromyricetin to market in the USA. They've since expanded their product line to include a wide range of niche supplements intended for brain health, anti-aging, immune support, and more.
Earth Breeze – Turn an everyday chore into an act of loving kindness with Earth Breeze. This company provides a powerful clean while making a difference.
HydroPeptide – Using leading-edge science of epigenetics and peptides plus their sensory expertise, HydroPeptide formulates results-driven, luxurious skincare products and professional treatments that makes customers look and feel amazing.
iPlum – This mobile-first solution is geared toward business professionals. iPlum app users can create a separate line on their existing smartphone for business calling & secure texting without changing their carriers.
Magoosh – More than 6 million students have said hello to stress-free study thanks to Magoosh, a company that specializes in test preparation for all levels of students.
TopResume – As the world's premier resume-writing service, TopResume analyses millions of resumes and LinkedIn profiles each year. Job seekers work directly with professional writers and industry experts to redefine their personal brand and stand out from the crowd during the job-search process.
Vivid Picks – Vivid Picks (formerly known as Betcha) is a simple fantasy sports app that is turning predicting the game into a game of its own.
Author: Teagan Fast