 Partner Spotlight: DealNews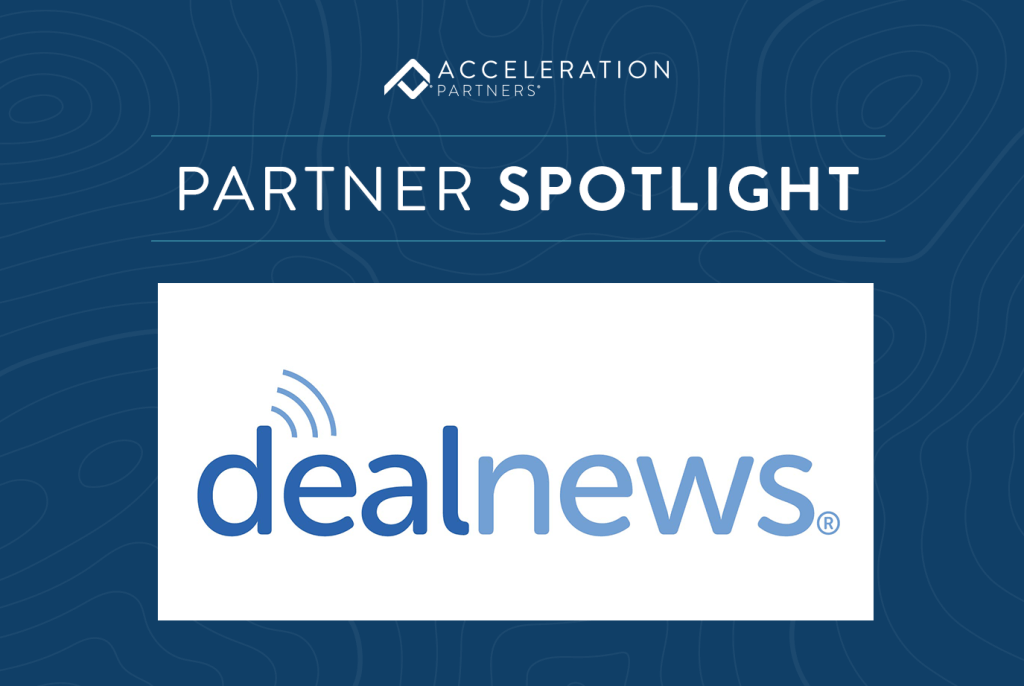 Acceleration Partners' Partner Spotlight is an ongoing series where members of our Partner Development team shine a light on innovative partners from across the world.
This month, Meghan Hamme, Publisher Development Manager at Acceleration Partners, chatted with Shauna Cortazzo, Business Development Manager and Tim Mueller, Head of Business Development at DealNews.
What is DealNews all about?
DealNews has been in business for over 20 years and has established itself as the leading authority on best of web pricing and money saving advice.
What sets DealNews apart from other publishers in affiliate marketing?
Honesty and integrity – we want to succeed, and we want our clients to succeed. We will always provide our best advice and honest feedback on what will be successful or not.
We also consider ourselves a purely top-of-funnel publisher – many clients do not know this, but DealNews is an "OG influencer." We publish content, people read about the deals we find online and then they are influenced by to make purchases. Our readers are not in the shopping cart already or using browser extensions. We really do influence sales with our content.
What is a common misconception about DealNews?
A common misconception about DealNews is that we are a coupon site. Coupon sites fulfill the purpose of giving a shopper a coupon code for checkout. At DealNews, however, all of the interest in our site comes from our homepage deal feed, which has 200-300 deals published by our editorial team every day. In actuality, we are a product/brand discovery website.
Aside from having "deal" in the name, what does DealNews identify as in the publisher space?
There are three integral parts to our identity. We are:
A product discovery website
An authority on saving money
A money saving influencer
Who is DealNews' key demographic? What types of brands resonate best with your users?
We skew slightly male, high household income, and readers from ages 21-55 are most prevalent. All of our readers are in the US.
What are some the trends you were surprised by in 2020?
We were surprised when some long-time partners grew so much that they reduced commissions or stalled their affiliate program altogether because their warehouses were so overloaded, and they could not handle getting any more traffic from publishers, including DealNews. In our long history, we had never seen this before.
As we being a new year, what is something you are looking forward to seeing in the industry this year?
Affiliate marketing has definitely grown up. Advertisers are so well-versed in understanding chrome extensions, coupons and cash back that they can really help with a conversion, but are very low funnel and most likely not bringing in new customers.
We're predicting that advertisers will really look with a critical eye at which partners are doing the type of work that really brings in incremental revenue.
Are there any exciting developments in the DealNews pipeline for 2021?
We love our DealBoost campaign and it is growing really well. When an advertiser is given a budget, they want to be sure that the media they are purchasing yields a positive return on investment (ROI). We designed the DealBoost for this exactly. We discuss the goals of the client and have a pragmatic, honest discussion about whether we will be able to reach their ROI. We are also looking at some acquisitions in 2021.
What are the top 3 things you would want any new brands looking to partner with DealNews to know?
We are a product discovery site, not a coupon site. We use our authority and years of experience about saving money to influence purchase decisions.
We generate $100 million in gross merchandise value every year and are still running strong, however, not all products sell well on DealNews because we are so high in the funnel and we are honest about that with our clients.
DealNews is an honest company with hardworking people throughout the US.
To learn more about the many other affiliate partners we work with to add value to our clients' programs, reach out to our global publisher development team.