 Partner Q&A With ROI Revolution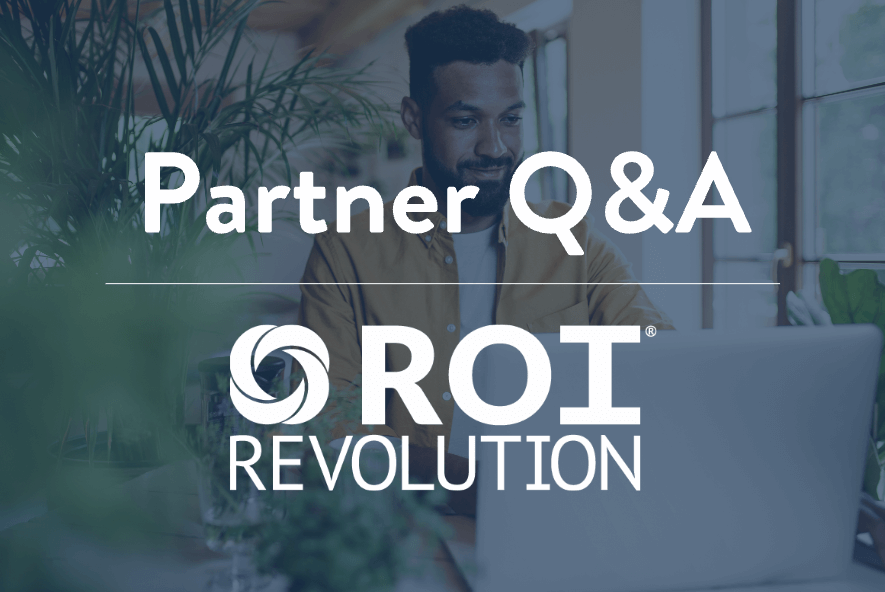 In this Partner Q&A with ROI Revolution, we dive deeper into who ROI is, how they're addressing current trends affecting the market like generative AI and Google Analytics 4, and how they're helping brands overcome economic uncertainty.
Who is ROI Revolution?
ROI Revolution is a digital marketing agency that helps consumer brands relieve the stress of achieving important business goals. Our experts develop and implement strategies that help businesses reach their highest potential. We take a holistic, omnichannel, and forward-thinking approach to helping our clients accelerate profitable growth.
What makes ROI Revolution unique?
At ROI Revolution, we know how it feels to obsess over achieving your marketing goals. We believe that businesses deserve an agency that's just as passionate about achieving their goals as they are, backed with the time and expertise to make it happen.
Our mission is to help our clients realize untapped profitable growth through our highly strategic, results-driven digital marketing services and in-house technology, the RevolutionSuite®.
Many agencies have convoluted onboarding processes. But with ROI Revolution, it's simple:
You book a meeting to tell us about your business and your obstacles.
We create a plan to overcome those hurdles and achieve your goals.
We establish a partnership to position your brand for long-term growth.
What trends are you seeing today?
One major trend we're noticing is that artificial intelligence is very top-of-mind. Google just announced many future betas that will bring generative AI into the management of paid search. There will also be a search experience for users that integrates AI chat functionality as well as a conventional search result experience.
Products like Performance Max are already utilizing machine learning to reach the right audiences at the right place and right time across the web at scale – and these products continue to get better. While Performance Max campaigns are largely AI-driven, it's still important to pair technology with human expertise and strategy.
Our experts use their expertise in creating profitable strategies to help our clients make the most of their Performance Max campaigns. In fact, we recently helped an apparel & accessories brand grow revenue 43% without increasing ad spend by leveraging a new customer acquisition tool in Performance Max.
A lot of the exciting trends right now are about how marketers can leverage AI to make creative assets. Data from across the industry shows that creative is the single most important element of digital ads to drive results. This is true of all platforms, especially with cross-channel campaigns like Performance Max – and it's not just about the upper funnel.
Google Analytics 4 is also top-of-mind for marketers. The GA4 interface has brought some challenges in terms of being user-friendly and how different it is compared to Universal Analytics. ROI Revolution was one of the first agencies to become GA4-certified, and our experts are passionate about ensuring our clients have a smooth transition and are educated on how to use the new platform.
What challenges are brands facing today and how are you helping to address those challenges?
In times of economic uncertainty, brands are looking to save money, grow profitably, and reduce risk. The biggest challenge businesses face today is continuing to achieve their growth goals without adding any additional budget.
Many digital marketing agencies only know how to scale businesses by increasing ad spend. At ROI Revolution, our holistic and strategic approach allows you to get more out of the same budget.
This is possible through our unique offerings with our in-house RevolutionSuite® technology and ongoing product feed optimization, in addition to our team of highly talented and creative marketers that know how to scale businesses even during trying times.
What successes are you seeing with brands you are working with?
Our recent success stories include:
Developing and implementing a strategy to help a B2C auto parts business grow conversions 15% at a 20% higher ROAS YoY by optimizing their product feed titles.
Reallocating a D2C health supplements brand's budget across paid search and social to grow revenue 130% and achieve their single best day of company history.
On average, some of the growth our clients experience includes:
22% average Google Shopping revenue lift from product feed optimizations
60%+ PPC revenue growth within first 6 months of working with us
42.7% Amazon revenue growth YoY
18.7% increase in revenue from SEO
206% conversion rate growth from social media advertising
What strategies are you testing with clients today?
We have an entire dev team dedicated to creating technology to help our clients make the best budget decisions. Knowing where to spend your budget to increase total profitable growth is crucial, but it is rarely easy – especially during times of economic uncertainty. We're testing brand lift studies, conversion lift studies, mixed media modeling, and advanced measurement to put ad dollars in the right areas.
Our teams are able to identify and act on opportunities for businesses to scale by capitalizing on competitors that are decreasing their marketing budgets. Businesses have a greater opportunity to be top-of-mind for their target customers when their competitors are cutting back. We're developing and implementing strategies for our clients to use this opportunity to grow profitably.
With AI pervading every corner of pretty much every industry, we're also using more machine learning and AI to scale effective marketing campaigns – for example, strategically leveraging Performance Max to reach more users across more inventory.
Lastly, with cookies on the up and out, we're also bringing more first-party data from brands into platforms to target users effectively across advertising channels and starting to rely less on third-party data.
Do you have any other tips for "easy wins" marketing teams can start leveraging today to improve their marketing strategies?
If your paid advertising budget doesn't look like it will increase any time soon, look into ways you can optimize your website to make it more effective.
For example, your paid search ads may be using the best keywords, creative, and targeting to reach the right audience, but if they take visitors to an under-optimized page, you may be missing out on conversions. Consider elements of your website that could be A/B tested to make it more user-friendly or enticing.
You can also use SEO to be top-of-mind for your target audience. If you're targeting certain keywords with your paid ads, you can target them with your organic strategy as well to dominate the first few search results on the SERP when users search for your product.
Lastly, product feed optimizations are another way you can increase the effectiveness of your paid strategy and increase your sales tremendously. Making a few strategic changes can have a huge impact. If your business doesn't have a partner that is consistently testing and optimizing your product feed, you could be missing out on millions of dollars in revenue. Product feed optimization is a significant opportunity that many businesses tend to overlook.
"Nothing routinely blows my mind more often than times when members of our product feed team add just one or two words to a product title within a specific product group and that drives, for example, 50% more clicks at a flat CPC period-over-period. I don't think you can understate how those small tweaks of the product feed can really drive growth." – Senior Product Feeds Specialist at ROI Revolution
What do you see as the value of leveraging strategic partnerships in a down economy?
The economic landscape and consumer behaviors are constantly shifting, which can easily make marketers feel overwhelmed. Businesses already have enough on their plate to worry about!
We believe that your brand's marketing success shouldn't hinge on outside factors you can't control. Leveraging strategic partnerships can relieve marketers of the stress of keeping up with the ever-changing ecommerce landscape and rediscover the fun of growing a business.
Most businesses don't have the time or expertise to execute successful marketing strategies. ROI Revolution's experts create and execute marketing strategies intentionally designed to hit your business goals so you and your business can thrive.
Ready to unlock your marketing potential and achieve your business goals?