 Partner Spotlight: digidip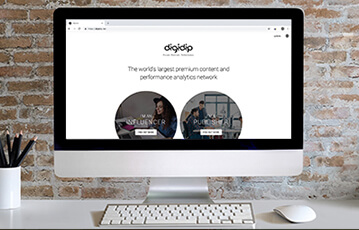 Our Partner Spotlight is an ongoing series where members of our Publisher Development team shine a light on innovative affiliate partners from around the world.This month, we chatted with Ante Letica, Director of Sales at digidip about his role, why digidip focuses so much on quality, what makes them different and their offering to brands as a sub-affiliate network.
Hi Ante, can you tell us a bit about your role at digidip and how it has evolved over the past 5 years?
I first started my role expanding the digidip network and services to the French market. Following our successful expansion there and taking the market lead, I took on the role to expand digidip internationally to other markets- starting from European markets like Poland, Netherlands, Spain, United Kingdom and so on.In recent years we have been focusing more and more on driving our expansion into the US market alongside the other English-speaking markets. Today we are active in over 50 markets and have a team of people who service clients in any way possible.
What do you like the most about working for a company like digidip? What are your company core values?
I think what I enjoy most about my role are the people that I get to work with and the people I have met along the way working at digidip- whether it is the publishers, merchants or agencies. I have to say that out of all our core values, accountability and impact are my two favorites.
We encourage people to be curious and always explore new things and see how they will work. We understand that along the way, there will be some mistakes and as long as people take accountability for the action, there will be no consequences.
Besides that, we want to be known as the solution in the market that has made most impact to the industry and the way we want to ensure this is, by only working with sites that we think are meaningful and add tremendous value to the industry.
Sub-affiliate networks can often be criticized for a lack of transparency. What do you think of this statement and what do you do to make sure publishers aren't fraudulent?
Sub-affiliate network transparency is often a topic that is discussed, especially in recent years. We embrace this topic and use it to keep the digidip network very private, and we have done this since the beginning.
That being said, unless we have invited a publisher to join digidip after all the research on the site, we will not allow them to join. We always focus on the reputation, traffic sources, potential and so on using multiple tools.
There is a large number of sites that even contact us directly to join that we simply do not want to be a part of our portfolio because we believe that their quality just does not fit within our reputable clients. To be precise, out of 10 applications we have to reject 9. Have we tried working with some different models? Sure. However, we believe that keeping the reputation of a clean network is more important than actually changing the perception about subnetworks.
Why do you think digidip is different from other subnetworks? Which services do you offer to both publishers and advertisers?
As we let in just a small number of sites, we are able to really focus and provide them with the service that they deserve. We keep our publisher pool tight, this allows us to monitor their accounts, provide new opportunities, excellent account management, optimization from case to case and more.For merchants we always tailor to their needs including specific reports, expansions to other markets and different publisher opportunities.
How do you add value to advertisers wishing to work with you? Can you give us some examples?
Today subnetworks with our technology play an important role in merchants discovering new publishers, some of which over time become their key accounts as well. It's a great option for merchants who are entering a new market as it gives them many options to find out what works best with their program.While affiliate networks themselves have good account management, the automatization that we offer can often lead to new discoveries and more time for valuable content, which merchants can then take advantage of. All merchants are expressing how important the creation of quality content is to them and the automation in digidip allows publishers to focus on this.
At the moment a lot of companies are classified as subnetworks although everyone is working differently. Do you think there should be a clear distinction?
Yes, I think that there should be a clear distinction among different business models. In our case we are a technology with strong focus on serving and optimizing the publisher on the highest level.There are other subnetworks that focus for example on software and other models. There should be a clear distinction of what the subnetwork is actually focusing on in my opinion.
What do you think it's going to disrupt the affiliate world in 2019?
I think we will continue to see the surge of SaaS platforms or networks that are more modern and flexible towards tracking technologies and merchants moving more towards managing programmes directly or with an agency.This trend already gained momentum in 2018 and I believe it will continue to disrupt the affiliate market globally. This will give merchants more power over decision making and also managing their relationships directly with key accounts and newcomers.
Lastly, can you tell our readers your favorite hobbies?
I personally have recently discovered the intensity of boot camp fitness programs and have been attending those regularly for almost a year. Besides that, I love watching Netflix shows and movies- especially Marvel movies. I am a big fan of that universe.
Our global Publisher Development Team helps industry-leading brands strategically grow and refine their affiliate program. If you have questions about some of the affiliate partners they recruit, manage and develop partnerships with, contact us!