 3 Teams Within your Company that Can Expand your Affiliate Marketing Partnerships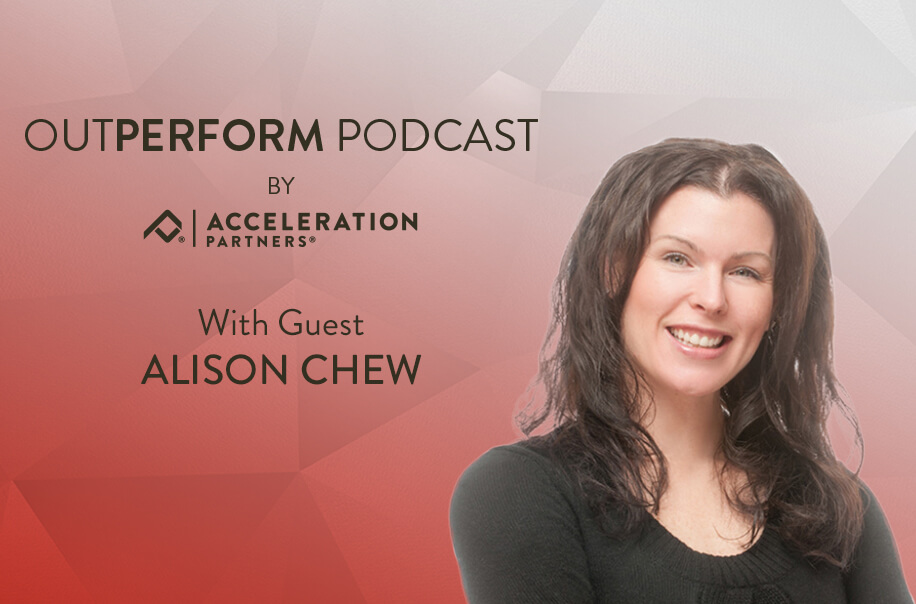 The OutPerform Podcast

(Listen time: 22:17)
More About this Episode
"Partners" come in all shapes and sizes. And thanks to significant advances in technology, this means that companies can create synergistic partnerships with just about anyone, and do so on a performance basis.
This also means that other teams within your company or organiSation – that fall outside of marketing — can play an essential role in helping attract high-value partners to your affiliate or partner programme.
On this episode of Outperform, Acceleration Partners' Senior Director of Performance Partnerships, Alison Chew, shares insider insights about:
Who these teams are.
The role they play in helping you attract high-value partners.
The role the affiliate marketing model plays in helping you grow, streamline and optimise these partnerships.
Show Notes
What the affiliate/partner marketing landscape looks like today and where some untapped opportunities are within companies.
What it really it really means to pay partners on a performance basis.
Three teams that can personally benefit from guiding potential partners to the company's affiliate programme.
How the company benefits from having these non-marketing teams direct potential partners to their affiliate programme.
Examples of business development "lite" partnerships and what it looks like to manage, track and measure their performance through an affiliate/partner programme.
Example of a brand-to-brand partnership and the significantly untapped opportunities they bring to a company.
What it means to pay partners on a performance plus
The secret to working with high-value influencers on a performance plus basis.
What does it mean to Outperform in Marketing & Business Partnerships?
What are the world's leading brands and savviest performance marketers doing to create transparent, high-value partnerships that bring more customers, incremental sales and faster growth? Join us on the Outperform with Acceleration Partners podcast to explore this very question. You'll hear insightful, valuable and eye-opening discussions about what it truly means to outperform in your marketing and business partnerships.
Gain some useful insights from this Outperform podcast episode? If yes, we'd greatly appreciate your rating and/or review on Apple Podcasts. You can also subscribe so you don't miss an episode!