November 13th 2020
This affiliate marketing 101 guide is intended for advertisers. If you are looking to be an affiliate then the information and resources on our 
Partner Hub website
are for you!
Table of contents:
WHAT IS AFFILIATE MARKETING?
"Affiliate marketing is a model in which an advertiser compensates an affiliate for driving a pre-determined action, usually a sale, to their website."
Affiliate marketing involves three key parties, an advertiser, an affiliate and a customer. The affiliate model is flexible and adaptable. You can tailor campaigns to meet your specific goals, whether that's pushing unsold stock or driving new customers. Whatever the affiliate does -  drive sales, leads, etc. – you only pay them after they've delivered on that desired action.
HOW DOES AFFILIATE MARKETING WORK?
Let's say you're a brand that sells engagement and wedding rings. You would start building your affiliate programme by sourcing and collaborating with relevant affiliates that can showcase or advertise your rings. These affiliates could be:
Websites focused on having budget-friendly weddings
Engagement/wedding ring review sites
Wedding bloggers and influencers
Here's an example of how the affiliate model can be used to drive a sale: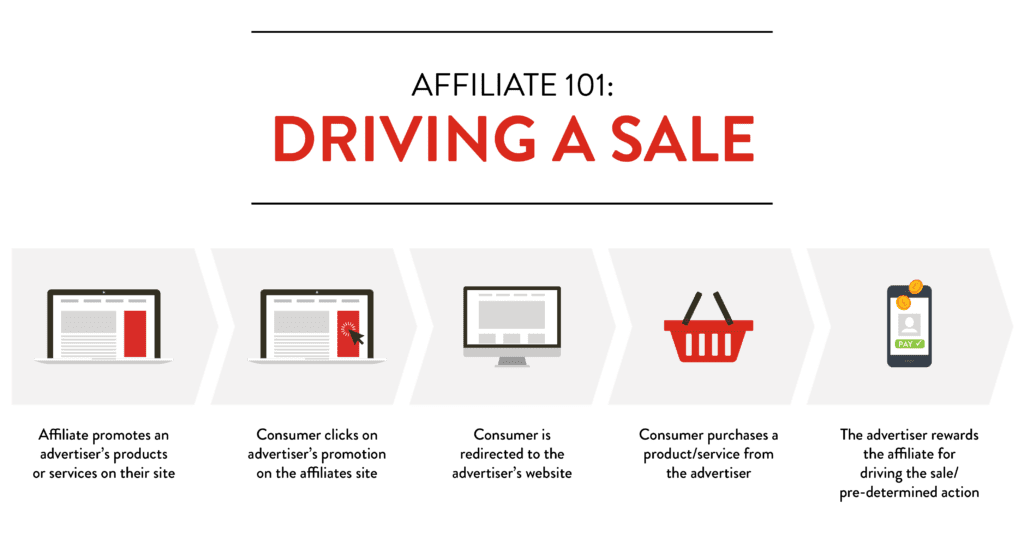 THE BENEFITS OF AFFILIATE MARKETING
The popularity of affiliate marketing is thanks to the simplicity and transparency of the model. It is an adaptable and low-risk solution for advertisers. Key benefits of affiliate marketing include:
Cost-effective: The affiliate channel is a cost effective and measurable model for driving new and existing customers.
Low risk: The affiliate model means that advertisers pay on performance rather than clicks making it a low-risk form of marketing. Whether that be the sale of goods, a new lead, even down to targeting new customers only, the affiliate channel can deliver.
Increase brand awareness: By working with a diverse range of affiliates you can  raise brand awareness and reach your target audience. You have control of who you work with, selecting the partners who are the best brand fit.
Data driven: The affiliate channel is measurable and transparent. Gain insights into specific partners and customer behaviours to manage overall ROI.
Flexible: The affiliate model is a flexible and adaptable model that can be applied to a variety of affiliates and partners.
Grow globally: The low-risk affiliate model is a great way to launch into new markets and reach new customers.
WHO ARE THE KEY PLAYERS IN THE AFFILIATE MARKETING MODEL?
Advertisers - Companies or brands who sell their products and/or services through the affiliate marketing channel. (Also known as brands and merchants)
Affiliates - A website that promotes an advertisers' offering and is paid on a performance basis for driving a predefined desired action, such as a sale or a lead. (Also known as publishers and partners). For a more in-depth overview of the different affiliate partners, download our guide to affiliate marketing partnerships
Affiliate Marketing Agencies – An affiliate marketing agency offers affiliate marketing services to advertisers, with specialised teams and experience to deliver this. They work directly with affiliates and with the affiliate network or SaaS platform that services the technological needs of the programme. Some also offer consultancy-based services including programme audits, programme reviews and partner development services. To find out the benefits of working with an affiliate agency to manage your affiliate programme, visit our blog.
Affiliate Networks - An affiliate network acts as an intermediary between affiliates and advertisers. They typically track, report and pay affiliates and can either provide full-service management or self-service management of a programme.
Media Agencies - A media agency will typically be a full-service digital agency who have an affiliate department. They could run all elements of an Advertiser's digital strategy or just the affiliate marketing channel.
SaaS Platforms  (Software as a Service) – SaaS platforms provide advertisers with tracking, reporting, and payment, however, they do not generally offer an account managed service, which differentiates them from affiliate networks.
HOW CAN AN ADVERTISER START AN AFFILIATE MARKETING PROGRAMME?
Affiliate marketing is a cost-effective and valuable channel for advertisers. To become an advertiser you must have a transactional website. This means that the pre-determined action such a sale or form fill can be completed online. You can visit our case studies page to see how affiliate marketing has successfully driven growth for our clients. Here are a few key areas to consider for a better affiliate programme:
Team skill set
Building a high performing team involves having the right skills in place. The best affiliate teams pull on skills and resources from a variety of team members as well as outsourcing to an affiliate marketing agency or affiliate network for specialist service and programme management.
Affiliate platform choice
An important part to consider before launching your affiliate programme is selecting a platform to support you in delivering your marketing goals. You can choose to work with an affiliate network or SaaS platform to track your affiliate marketing activity and make payments to affiliates. Some questions to consider:
Do you want to expand into other markets? If so, does your platform of choice, support multiple markets?
How many affiliates would you like to work with? Can the platform support this?
Does the platform work with your competitors? Is this a conflict or an advantage?
Does the platform specialise in certain verticals or niches' that you want to target?
Does the platform have the necessary tools and technology to support your affiliate programme development?
For a more in-depth overview of how to select a platform or migrate your affiliate programme. You can download our migration checklist.
Budget and resources for your affiliate programe
It's also important to consider budget and resources. Choosing the cheapest or the biggest platform and service provider doesn't always mean it will be right for your business.
Do you need help understanding how affiliate marketing can help your brand or company? Contact us and let us break it down for you.