July 14th 2021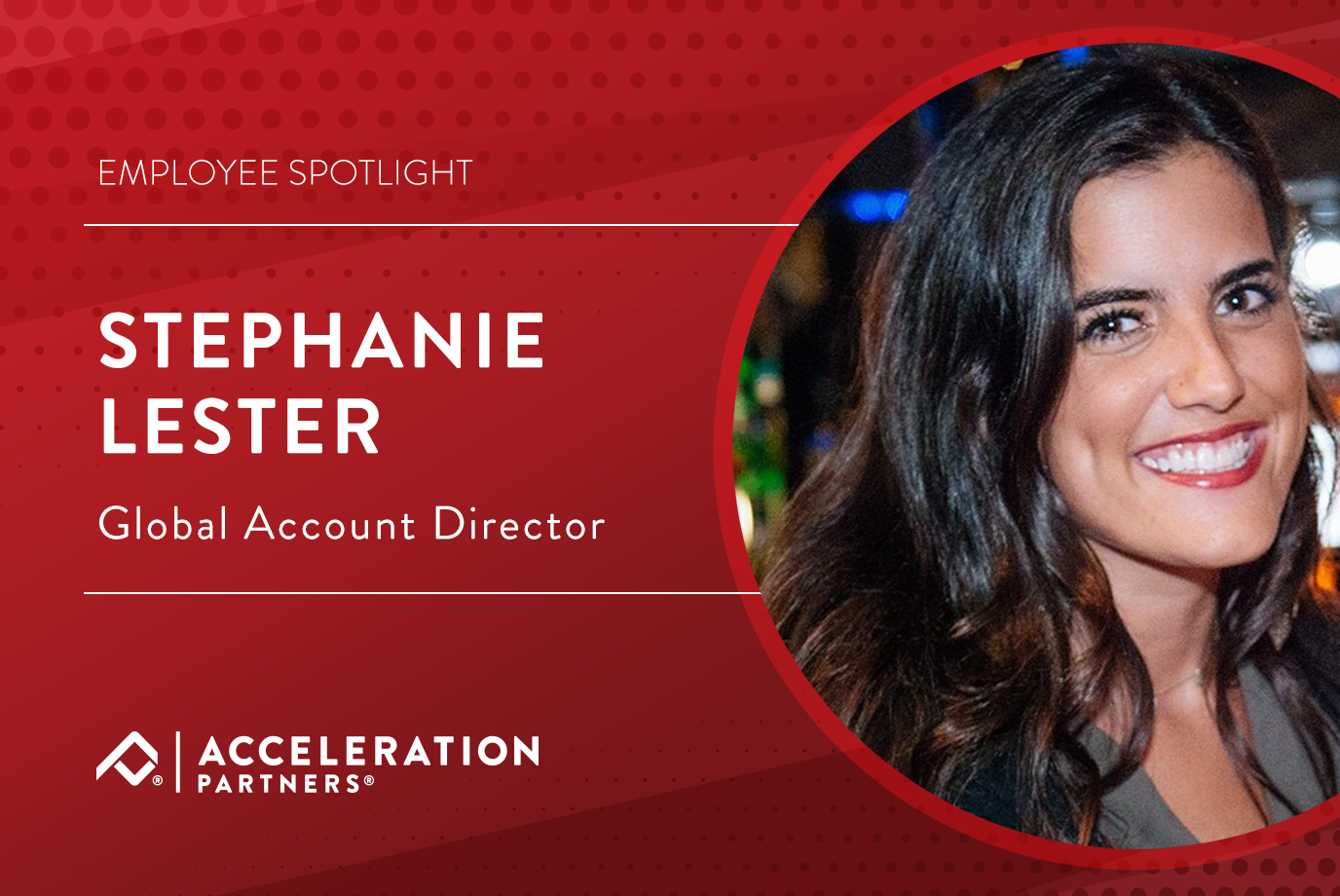 In this month's edition of our Employee Spotlight series, we talked to Global Account Director, Stephanie Lester, about what attracted her to working at Acceleration Partners, tips for remote working success, and her travel plans for the future!
Can you tell us more about your role at AP as Global Account Director, and what this involves? 
My role focuses on supporting our global accounts.  I work with the team to ensure we are delivering against the strategy and seeking opportunities for growth and operational efficiencies.
I also have colleagues in the EMEA and APAC region that report to me. My focus is to ensure they are happy at work, supporting their direct reports, and developing themselves.
Which parts of your role do you enjoy the most?
I love ideation and problem solving with the team – those 'aha' moments are what gets me excited!
What excites you about the affiliate marketing industry?
The affiliate industry is built on relationships, and it evolves from there. Programmatic channels such as display, social, and search are more automated and rely on algorithms for success.
I enjoy the process of engaging with one and other, sourcing ideas, negotiating, and executing the final idea.
What attracted you to working at Acceleration Partners? 
I knew that AP held themselves to the highest standards and did not settle for anything mediocre, and this was important to me. I wanted to ensure I worked with people who would challenge the status quo and always look to strive for excellence.
I had also heard a fair amount about the company ethos and how the business treats its employees. This definitely made AP an attractive place to want to work.
Do you have any top tips for working as part of a remote team?
I'd recommend communicating more than you normally would and being deliberate in your actions. You need to make the extra effort to connect with your team on a professional and personal level, as you can't lean across a desk to discuss how to execute a task or see how someone is on a given day.
Finally, if you could travel to a new destination, where would it be and why?
One destination is too hard to choose, considering my list has been growing by the day since the start of the pandemic! The top two destinations on my list at the moment are Mexico and Tanzania. I'm desperate to go to Mexico because I know it has everything I could ever want from a holiday; culture, incredible food (minus coriander!), stunning beaches, and amazing diving sites. Tanzania also has great landscapes and wildlife.
To see our current EMEA job openings, visit our Careers page.