November 9th 2016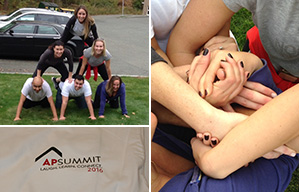 The day after Halloween, the Acceleration Partners team descended upon Beverly, MA (near Salem) like witches gathering for their coven.
Instead of brewing spells, at our annual AP Summit, we brewed new ideas, stirred up our visions and goals for 2017 and mixed in spellbindingly fun team activities with a generous sprinkling of revelation and recognition.
Inspiration
Staying at the historic
Wylie Inn and conference center
on Endicott College's campus, our AP Summit got under way with a new hire welcome session for 19 new team members – one flying in from as far as London, England - and an AP Fellows 3 kick-off. We heard from AP's founder and managing director,
Robert Glazer
, about what his
Vivid Vision
is for Acceleration Partners over the next three years and we collaborated on ways in which we could better support and service our clients.Each evening we gathered at the
Tupper Manor
for delicious food, a little conversation and a lot of fun. From trivia and game nights to gathering around the TV to see who would win the World Series (our team includes passionate baseball fans from both Chicago and Cleveland), we made the most of our time together and created many fun memories in the process.
Perspiration
One especially fun and memorable activity was our Amazing Chase-themed scavenger hunt. AP-ers were divided into teams for some friendly-yet-fierce competition.
Organized by SmartHunt, each team was given an iPad that featured a list of challenges to be performed, clues to be solved and trivia questions to be answered, all of which were associated with points.
For example, activities included taking group photos at specific historic locations on and around Endicott College's campus; dancing like Elaine from Seinfeld; serenading a stranger; and coming up with an Acceleration Partners theme song.
While hilarious and fun in and of itself, many of the zaniest activities required us to capture it on video or through photos using the iPad, which were then shown at the conclusion of the event.
The hunt coordinators from SmartHunt tracked our progress so they could determine which team was the winner and present the victors with "gold" medals as a prize.
Our incredible AP Summit coordinators also brought in Paint Night to lead one of most creative and lively group activities to date.
And what would a trip to the Salem, MA area be without a
trolley tour
of the Witch City's unique and haunting past? Narrated by a knowledgeable tour guide, we were taken through beautiful historic Salem, learning the history of the witchcraft trials of 1692 and Salem's literary and maritime history.
Aspiration
Since their start, AP Summits have focused on looking forward to our future as well as taking time to look back on what we've accomplished over the past year.
A particularly treasured event is our Awards Night. Prior to the event, an online survey is sent out asking everyone to nominate their team members for our core value awards and share why these individuals exemplify these values.
Bob then reads the responses given for the top candidates, announces the winner and presents them with an incredibly thoughtful and esteemed gift.
Awards are also given to team members celebrating a work anniversary during the year and to the team members who have given and received the most cheers via TINYPulse's "cheers for peers" feature.
As we do every year, we packed a lot in over a short period of time, creating ambitious goals for our company and clients and making lasting memories that will be reflected back on with fondness for years to come.
An organization, no matter how well designed, is only as good as the people who live and work in it." - Dee Hock
Learn more about Acceleration Partners and our award-winning culture on our Company page.